Baby Motocross Theme Nursery Ideas, Gear, Wall Decals and Bedding and Decorating Ideas
We have some motocross theme bedroom and nursery ideas for kids that should delight parents who dream of their kids sharing their love of dirt track racing. I've found a few accessories and put together some nursery decorating ideas get you started. Any of these cool accessories will work in a child's bedroom of any age, but for the sake of racing enthusiasts who are always looking for a head-start in any race we will start with motocross bedroom decorating ideas that are suitable for a baby's nursery as well as an older child's room.



Visitors Who Like Baby Motocross and Dirtbike Stuff Also Enjoyed these Pages:

It's quick and easy to paste up a wallpaper border at chair rail or crown molding height. The great thing about this colorful border is that they are bright and multi-colored and easy to match to most any nursery wall paint you might have in place.
Borders are an easy and cheap way to customize for a boy or a girl or if you are lucky enough to have twins, both!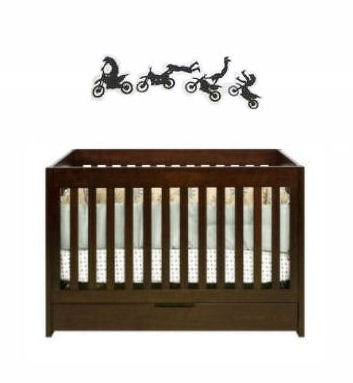 Go here to see more
crib sets and nursery decor for this theme.
Motocross Decorating Ideas for the Baby's Nursery Room
Once you have your paint and wallpaper on the walls, you may want to frame and hang a few framed freestyle pictures as decorations on the baby's nursery walls. You can buy prints and posters or you can enlarge and print pictures that you took with your own digital camera. There's nothing like reminiscing about a day racing through the ruts and the mud at the track. Personal photographs are a great way to share your stories and experiences with your children.
Go here to see
baby bedding and comforter sets featuring motocross patterns.
Kids Motocross Bedding Sets
The impact that an inexpensive set of nursery bedding and crib sheets has on any room's décor should never be discounted. For this decorating project you will need a comforter, shams and sheets that has a theme of motorcycles, dirt bikes or Motocross helmets. If you can't find a ready made set, consider buying some suitable fabric for bedding and sewing your own crib size or larger duvet cover. You can also pick up a Motocross themed throw to hang over the back of the nursery rocker that will feel really good on cool nights.
Motocross Rugs for the Nursery If you really want to go all out with your dirt racing theme, you can cover the floor with an area rug that has your favorite logo or pictures of a race in progress. A soft nursery area rug will make a soft place for baby to play and rugs with pictures or bold prints tend to hide stains very well. This feature makes a Motocross theme rug an excellent choice for decorating a kids' room. The logo and colors will give you tips on which color schemes are best for your motocross theme decor.
Please visit Unique Baby Gear Ideas when your motocross nursery is completed and upload your pictures.