Baby Rock and Roll Nursery Theme Ideas

Musicians and fans will love our baby rock and roll nursery theme ideas including decorating with homemade guitar baby crib mobiles, bedding sets and DIY musical instrument decor.  We have many craft projects that are easy, fun and readily available to decorate your baby boy or girl's room to reflect your musical taste.   

Rock stars and recording artists that are big name acts with songs currently at the top of the music charts merch that can be utilized as decorations will be plentiful.
Putting treasured rock band collectibles from mom and dad's school days is another way to empty the closets and share memories with a child.
Rock and Roll Guitar Wall Decals
Musical Baby Nursery Ideas
How to Decorated Rock N Roll Baby Nursery Walls
The rock and roll nursery theme is a delightful way for mom and dad to introduce a newborn to their musical tastes as well as their favorite instruments and bands very early. And as other parents have learned, this is possible without spending a lot of money.
For example, a display of mom and dad's guitars on the nursery wall makes an eye-catching arrangement and a conversation piece when other musicians come to admire the nursery. A limited collection of instruments is not a problem. Guitar stickers and decals have the walls covered. A record collection will come in handy for
rock and roll baby nursery ideas
, too.
Add some framed concert posters featuring guitar heroes to the arrangement, male for a boy's nursery and female players for a girl's room.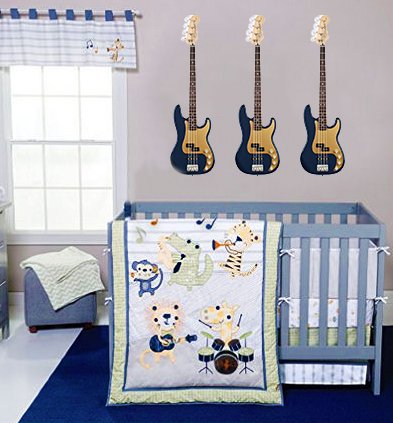 Go here to see more
rock n roll themed nursery bedding, window treatments and decorations for your project.
Groupies of bands that are touring have really hit the jackpot. The launch of a new album and a current world tour will provide a virtual treasure trove of promotional merchandise to add to the collection.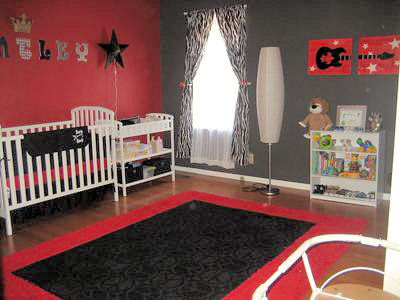 Bentley's Rock and Roll Baby Nursery Theme .
Musical moms and dads will appreciate that for the price of a concert ticket they will be presented with a windfall of opportunity of adaptable (check that they are baby safe, of course) items that can be scored to complete a smashing rock and roll themed nursery complete with Fender and Gibson guitars and drums galore to kick start their newborn's introduction to the art of music.
Color Schemes
The beauty of this theme is the variety of color schemes. Check out this
rock and roll baby nursery theme
in black and yellow. This would be the perfect color combination for a rockabilly themed room.
Punk Rock Themed Baby Nursery
Punk rock is another take on this style. This black and purple
punk rock nursery
is awesome!
No Merch, No Problem
SHARE IDEAS - PICTURES of ROCK n ROLL NURSERY DECOR
Do you have a great set of baby bedding or a picture of a nursery that you decorated in a rock and roll or musical theme? Share it!
ROCK n ROLLTHEME NURSERY PICTURES, IDEAS and SUGGESTIONS from our FRIENDS
Click below to see contributions from other visitors to this page...

There are ways to make your own baby rock and roll nursery decor without having access to a band's licensed merchandise. Finding the right crib bedding set might be a little tricky, but it can be managed. Solid color nursery bedding sets or fabrics with musical notes and guitars will keep the décor from lapsing into pastels and motifs that might clash with your ideas for a baby boy rock and roll nursery worthy of note. For the parent with a passion for punk rock there are plentiful crib bedding sets in gothic designs on the market. The talk on the street is that that more than a few celebrity parents are leaning toward the dark side when shopping for their baby's nursery decor. This trend would not be everyone's taste but to each his own. Showcasing rock idols in a baby's room is pretty darn radical, after all.
Today's rock and roll babies has it good. Every rocker with a Stratocaster has his or her own product line which makes decorating the room like a shrine to musicians a piece of cake. Grandparents might find rock and roll nursery decor odd and unusual that rock bands have taken the place of traditional motifs in the nursery, but they will come to appreciate the eclectic style and originality in good time.
Please plan to visit
Unique Baby Gear Ideas
again soon to find more tips for decorating a rock star them for boys or girls as well as a gallery of pictures featuring cute baby bedding sets and gift ideas for the infant that is certain to become the next great guitar player.