Cute Baby Blue Nursery Ideas
We have some baby blue nursery ideas that have been shared by parents that are expecting and decorating for a baby boy. It may be "traditional" or even "old-fashioned" but the facts are that the color blue is still a favorite with parents choosing a nursery design for a son.


See more baby boy nursery pictures featuring rooms decorated in blue in our photo gallery.
Modern decorating trends have taken moms and dads far beyond the limitations of decorating with blue for a baby boy, pink for girls as well as green and yellow and lavender should the gender remain a secret until delivery.
Nature themes with branches, birds or baby owls are popular.
Natural themes come in a variety of color schemes such as aqua blue and orange and many, many others.
However, there are those who prefer to embrace tradition when it comes to decorating nurseries for baby boys.
And then again there are those who are simply drawn to a peaceful blue color scheme.
Whatever your reasons for shopping for blue baby bedding collections and nursery decor, I have some decorating ideas and baby boy nursery pictures that will guide you toward a stylish blue nursery.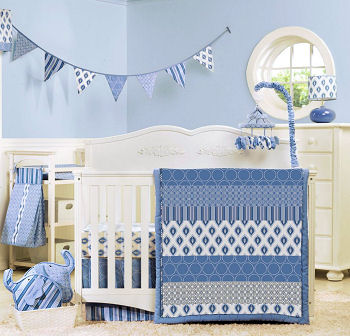 BLUE and BROWN BABY ROOMS
When blue and brown nurseries came on the scene; chocolate brown was the star of the show. Dark brown and baby blue was the standout color combination for several years. Earth tones were the passion of many new parents and professional decorators while others considered these
nursery colors
to be too drab and lifeless.
Designers quickly learned to experiment with light brown, taupe and varying shades of blue including aqua or teal blue (as well as pink, yellow or orange or any number of other lively colors).
The results of their experimentation are a winner in anyone's book.
BABY BLUE and WHITE CRIB BEDDING
Not so very long ago practically every baby blue nursery had this color scheme. The fabrics used for the crib bedding set may have been small checks in blue and white gingham, striped or even solid color blue chambrey fabric. But the thought of punching things up by jumping onto the opposite side of the color wheel was unheard of.
This combination is still popular but chances are that you will see pops of red, green or other accent colors featured in the baby's room room to expand the color scheme. And in addition to the colors expect layers of texture including minky chenille crib accessories trimmed with satin and ruffles with tactile variety to a classic baby blue nursery that is sure to be anything but boring.
Even a navy blue and white nursery with baby blue walls can be made feminine with a few touches of pink.
Some moms are reluctant to paint the nursery walls in blue believing that painting them a neutral color is best if they plan to have another child in the future.
When, in fact, it would be easy to add feminine details to a baby's room with light blue walls to make it "girly".
Nautical Nursery Ideas In Navy and Baby Blue
Another possibility is a nautical baby blue nursery working with a pastel blue wall paint color.
By adding decorations in navy blue and a set of preppy, nautical baby bedding with sailboats in red, white and blue a Naval theme begins to emerge. The eye-catching bright red and brass decorative accessories in this baby blue nursery are what keeps this decor "afloat".
Royal Blue and Yellow
Nursery ideas based on blue and yellow can bring some welcoming sunshine into a baby boy's room. Sunny yellow is a natural choice to add warmth to all shades of blue which by nature are in the cool color family. There are many baby patterns in blue and yellow fabrics to pick from but the standout of the moment may be yellow toile. Another popular style is blue and yellow duck baby decor where cute ducklings paddle away on backgrounds of blue.
I hope that Unique Baby Gear Ideas' examples of nurseries decorated in blue have been a help to you. Our goal is to provide tips for nursery layouts that will inspire and educate new parents. Please visit our baby nursery pictures gallery as well as our huge list of themes for boys, girls or both before you leave our site.
SHARE IDEAS - PICTURES of BLUE NURSERY DECOR
Do you have a great set of baby bedding or a picture of a nursery that you decorated in blue? Share it!
BLUE NURSERY PICTURES, IDEAS and SUGGESTIONS from our FRIENDS
Click below to see contributions from other visitors to this page...