DIY Nursery Ideas with Nautical Baby Bedding and Craft Projects

We have nursery decorating ideas and tips for baby bedding nautical and seaworthy that will have your baby nursery theme and decor sailing smoothly! There are so lots of excellent ways to bring memories of sailing and salty air into your baby's nursery.

It's very tempting to load the shelves, walls and furniture up with model sailboats, anchors, rigging, lighthouses and other decorative items associating with boating fun of all kinds.
The photos that parents share with our visitors demonstrate that the color combinations chosen in nautical decor are just as important as the theme of the decorative items on display in the space. I advise visitors having difficulty making a choice to focus on the color palette that comes to mind when remembering the the last day you spent on the water.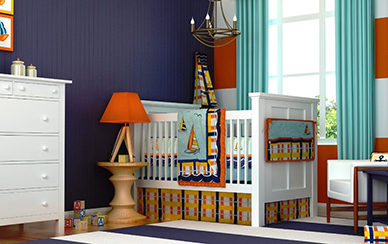 Go here to see
more crib quilts and decorations for your project.
It comes as no surprise when thinking of sailing that various shades of blue come to mind. Which shades of blue that you select, from navy blue to baby blue, and what colors you use to accent depend on your nautical inspiration piece, which in this nursery project will most likely be the dark blue of the nautical baby bedding set with bright red accents.
FLY YOUR FLAGS HIGH
There are many baby bedding sets that will tickle your little mariner complete with quilts, bumpers, dust ruffles and crib sheet sets.
Sailboat Wall Stickers to create murals

Sailboat Nursery Rugs
Many have all of the nautical themed decorative items that you will need to put together your baby's nursery. Some of my favorite fabrics for this style of decor are covered in colorful flags that you could imagine flying from the masts of sailing ships from all over the globe.
Take your cues for the best paint colors for your nursery from the ones featured in the fabric of your crib set. Since most sailboat baby bedding sets have a color scheme based on blue, white or pale yellow walls would be excellent, but always take your inspiration piece with you to the home improvement store to get a good color match.
Murals for a nautical baby nursery might includes pictures of a seascape. Anchors, lighthouses and New England style cottages reminiscent of a day in the dune of Cape Cod would all be great companions in your baby's room.
There are many tutorials online with instructions for how to take an ceiling light fixture or lamp and transform it into a nautical theme lamp by painting it or adding decorations such as a lighthouse or anchor finial. Old brass lamps are excellent and you can use them in other styles of decor should you give the nursery a makeover and toss the nautical theme.
Give an old dresser a new life with fresh paint and new drawer pulls. Plain polished brass button pulls or custom knobs in the shape of a sailboat or other boating motifs are a cheap and easy way to update a baby dresser or other pieces of baby furniture and bring up to speed with your nautical baby bedding for a baby boy or a girl.
DECORATIVE NURSERY ACCESSORIES
Collectible lighthouses on display shelves,vintage lifebuoys over the head of the baby's bed and tugboats will all be in keeping with your boating theme and you can still use nautical themed or Navy Flags and Naval banners for color.
I hope that the ideas and tips here on
Unique Baby Gear Ideas
will show you how to decorate your nautical nursery that will make your baby decorating project flow smoothly.