Busy Baby Bumble Bee Bedding and Nursery Decor
We have ideas for your baby bumble bee nursery theme that will have you "buzzing" with excitement. On this page you will find decorating advice for a cute black and yellow nursery for a baby boy or girl! With some honeybee wallies or wallpaper cut outs in the shape of bees, your bee hive themed baby room will be a cute and colorful room where baby can learn all about some of the most beneficial insects on earth.



Decorative honey bees can light on the shades of your nursery lamps, furniture, ceramic tiles, walls or any other hard surface of a child's room. A busy bee nursery theme is a super unisex nursery theme all on it's own, but you can use bees as support for many other classic themes as well! You will find that a "bee my baby" nursery theme for a baby boy or girl can be very versatile.





Items like this tote bag that do double duty as a diaper bag or storage bin are a mother's best friend.
There's no need to have a swarm of insects strewn all over the nursery landscape. A sweet baby bumble bee on a lampshade or bumble bee fabric on your diaper stacker will carry your theme around the baby bedroom. Simply placing a cheerful honeybee baby accessory or brightly colored object that mimics the little black and yellow bee here and there is enough to work with in decorating the nursery.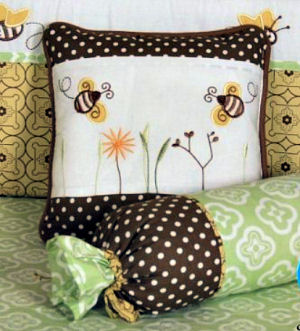 SEE MORE HERE


Remember the baby bumble bee nursery rhyme that we sang as children? Here's a few of my favorite lyrics!
I'm bringing home a baby bumblebee Won't my mommy be so proud of me? I'm bringing home a baby bumblebee Ooooh weeee, he's stuck on me!

BUMBLE BEE BABY SHOWER INVITATIONS

BUMBLE BEE STENCILS


We all were taught not to go too close to the hives and to leave the honeybees to tend to their baby bumble bees and honeybee business uninterrupted, and yet there was something that drew us to the bees swarming about the hive. I can remember many summer afternoons in the shade of a favorite tree listening to the buzz of a baby bumble bee that was nearby.
Make your own three dimensional baby bumble bee mural with beehives made of paper mache' (you can do it yourself for a song!), a nursery wall mural featuring a landscape filled with nectar filled flowers and baby bumble bee bedding fit for a queen or king bee, you're on your way! This is a really cool gender neutral nursery theme for a baby bumble bee crazy girl or boy.
Other ways to spread your baby bumble bee theme about the baby's room or nursery would be to look for cute honeybee room decorations to match the baby bedding's bumblebee print fabric. A few inexpensive items worthy of consideration would be bee theme drawer pulls, baby bumble bee figurines and honey bee collectibles. Don't forget to display pictures of dome shaped beehives and Winnie the Pooh and his honeypot that will look so cool when you put it together with some honey bee bedding!
BABY CRIB BEDDING
The honey bee or bumblebee baby nursery theme is one of the most popular of European baby nursery decor. Don't limit yourself to the American market in finding bee theme baby nursery items. One of the more popular honey bee baby bedding collections is the Wendy Bee baby bedding set. Wendy Bee baby bedding is a product of the talented baby designer Wendy Bellisimo. Wendy Bellisimo bedding featuring bumblebee fabric designs has really taken off this year! This is one of the few crib bedding collections that has a bumble bee infant crib comforter and accessories.
Are you not sure you know how to begin designing a nursery theme with a honey bee baby bedding background? The best advice I can give is to always devise a plan for shopping for your baby nursery decor items before going to the baby center or baby bedding store. Consider that you will want coordinating bumble bee artwork or framed art prints for your nursery walls when choosing your bee baby bedding and cribsets.
NURSERY PAINTING TECHNIQUES
Paint colors for your wall can be taken from the bees themselves! Painting in golds, tans and some crisp white for contrast will all be appropriate and will blend nicely with most baby bedding available on the market today with a honey bee theme. A grass cloth wallcovering would work as well. Take colors from your baby bedding and carry them to other areas of the baby's nursery for balance.
Create a bee theme nursery wall. Stencil a few beehives on the nursery wall in a golden brown and let little bees (stickers or decals) swarm about it. Find a few free printable stencils online and use stenciling to help on the nursery decorating budget or create your own stencil designs with pages from a child's coloring book! Wallpaper a nursery wall with a natural pasture view and scatter some bees across the horizon.
OVERSIZED NURSERY STICKERS or WALLIES
Cut outs, stickers and decals are always an excellent way to create interest in addition to a painted nursery wall. Bees and beehives are not the only stickers that will work; there would be birds, butterflies and other insects that you could include. What about Winnie the Pooh and Friends? Bees flocked towards that honeypot!
NURSERY WINDOW TREATMENTS
Some of the popular home stores like Pottery Barn or Pottery Barn Kids have honey bee theme shower curtains and window treatments! It's possible your baby bedding set will have a matching window valance, but there's no need to feel that you must use it and no other. You can never go wrong with an airy white fabric for nursery window treatments or for a canopy for the baby's crib.
Some suggestions for accessories follow.
Your beautifully decorated honey bee nursery theme will have your friends buzzing!
SHARE IDEAS - PICTURES of BABY BEE NURSERY THEMES
Do you have a great set of baby bedding or a picture of a nursery that you decorated in a Honey Bee theme? Share it!
BEE NURSERY IDEAS and SUGGESTIONS
Click below to see contributions from other visitors to this page...

NATURAL NURSERY THEME and DECOR - BIRDS, BUTTERFLIES BEES and MORE!

I made the mobile as well as other decorations for our baby's natural nursery theme. The mobile was a product of a crafts class that I took and surprisingly …
BABY BUMBLE BEE BABY BEDDING BUSY BEE NURSERY THEMES and BABY NURSERY IDEAS GO TO THE MAIN NURSERY THEME LISTINGS PAGE