Baby Turtle Nursery Theme  Ideas, Crafts and Decorating Ideas
A baby's turtle nursery theme is one of the more versatile themes around as it offers a chance to focus on everyday turtles seen around the pond, sea turtles or even the pokey tortoise of Tortoise and the Hare. 

In addition, to enhance the pond theme you might add frogs, butterflies and dragonflies to your list of characters in the nursery.
This is a winning combination of critters that is very popular because it is fun, natural, colorful and gender neutral.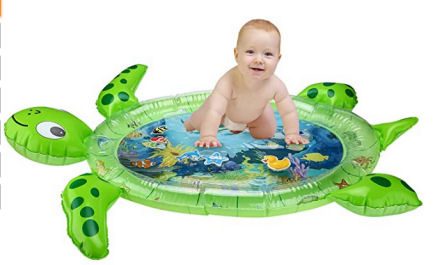 Go here to see more
Consider decorating your turtle nursery walls with some actual photographs of baby turtles or
underwater wall murals
that include
pictures of baby green sea turtles
.
Sea turtles might play a part in an ocean themed room as well as a room with a tropical Hawaiian atmosphere.
This would be a once in a lifetime opportunity to display your valuable collection of ceramic turtle figurines on wall shelves should you happen to have one packed away in storage.
Think of it as a relaxing way to start teaching baby about the creatures that live in the sea. If your goal is to raise a child with an environmentally responsible attitude, you might prefer a sea turtle baby bedding set over a turtle nursery theme decorated to reflect pond life. A pretty sea green set of appliqued sea turtle baby crib bedding is just the perfect cool, tropical look that we need when it's warm and our thoughts are of the beach. Think of how cute pictures of little box turtles would be on your newborn baby's crib quilt.
SHARE IDEAS - PICTURES of TURTLE NURSERY DECOR
Do you have a great set of baby bedding or a picture of a nursery in a turtle theme? Share it!
Find a set of turtle nursery bedding that you like. Decide whether you want a sea turtle baby nursery or the plain garden variety of tortoise. With a baby sea turtle theme, your decorative accessories with have an under the sea look with a friendly octopus and a whale or two. If your turtle decor is based on fresh water turtles, you could go with frogs, fish and dragonflies for starters.
MOD TURTLE BEDDING and DECOR
For a more funky and fanciful approach, join your mod sea turtle baby crib bedding bold graphics ala The Beatles Yellow Submarine album cover. Funky purple octopus wall decals would be very cool! Surround your baby with bold graphics and bright 60s flower power patterns and colors! There are lots of turtle decorations and baby stuff with turtles on it that will give you lots of nursery decorating ideas for your turtle nursery. It's the modern trend to light everything up with your themed motifs, so a turtle nightlight or nursery chandelier might be good decorative items!
If you're really into a turtle theme room, carry it with you when you take baby out for a stroll with a turtle print diaper bag! Get a turtle print fabric that matches your turtle baby bedding set and enjoy the day knowing that you are packed and ready for whatever comes your way.
A turtle shaped rug on the nursery floor and a few pieces of turtle art work on the nursery wall and your turtle nursery theme will be just perfect!
Please visit
Unique Baby Gear Ideas
often to see more creative and educational turtle nursery theme recommendations and crafts ideas and DIY projects suitable for many natural themes!