Little Baby Prince Boy Nursery Theme Decorating Ideas and DIY Crafts Projects
Our visitors have shared some really cute baby prince nursery theme decorating ideas for a baby boy. They have given secondhand nursery furniture makeovers using painting techniques to give pieces a medieval look, made their own artwork and even stitched up crib sets fit for a king. Since little prince and frog prince baby bedding sets are difficult if not impossible to find decorators will appreciate these examples that may help you to avoid having to pay to have custom crib sets made by a professional.


Castle Theme Nursery Ideas
Prince Baby Nursery Decorations
Free Printable Wall Art for a Little Prince Nursery Theme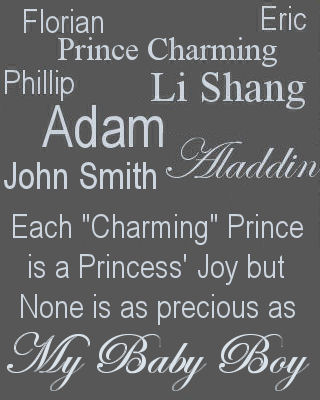 Free Printable Little Prince Charming Quotes for a Baby Boy Nursery
Colors for a Little Prince Nursery
As you will see in many of the following
baby boy nursery pictures
, decorating a prince themed nursery is as much about color as it is gold crowns, storybook castles or the ability to slay fire breathing dragons.
NEW! Prince Baby Nursery Bedding, Gifts and Gear
Metallic silver, gold and bronze decorations artfully displayed on a background of soft baby blue and cream create a space worthy of royalty.
Personal touches in the room might include a maternity portrait in black and white featuring the mom-to-be holding a tiny prince's crown.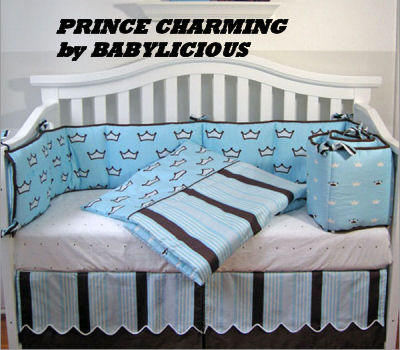 Go here to see more
.
Moms and dads alike will be thrilled with a unique baby prince bedroom design. The nice thing about it is that it can be adapted to so many color schemes and the decorations will work for a toddler's room as well as a newborn's nursery.


You will see that the royal touches are what turn ordinary crib sets into bedding fit for a king.
Frog prince nursery wall art can be custom ordered to complement any color scheme and personalized with the baby boy's name.
Decorations for a Little Prince's Wall
Three dimensional wall decorations that will coordinate well with prince bedding would crossed swords, plaques with knight's armor and the family coat of arms. If antique swords and battle gear are not your taste, there are lovely pictures of dragons and damsels in distress straight out of your favorite fairytales that will add pops of color and light to the space.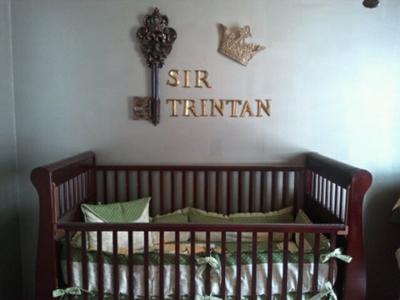 Medieval Castle Prince Baby Nursery
Prince Theme Baby Nursery Ideas and DIY Projects
Share pictures of your baby boy's nursery!
Pictures of Little Prince Nursery DIY Decorating Projects and Crafts
We have more prince themed nurseries decorated for baby boys as well as photos of arts, crafts and DIY projects our visitors have shared that you will definitely want to see.

King's Castle Baby Nursery Theme

The king's castle baby nursery theme on this page was designed for a little prince who bears a very royal-sounding name; this baby boy's name is Kingston! …

Our Baby Prince Nursery Theme is Fit for a King

Our family spent quite a bit of time decorating our baby prince's nursery but it was worth every minute it took and every penny we spent because the end …

Liam's Frog Prince Nursery Theme

Our baby boy, Liam's, frog prince nursery theme was designed and decorated with a lot of hard work and love. My daughter-n-law and I looked very hard to …
More Prince Nursery Decorating Ideas:
Add luxurious trim to the edge of the crib skirt or if you make your own, consider scalloped edging.
The bumper pad could be embellished in the same fashion with a monogrammed medallion in the center that includes your baby boy's initials.
A baby pillow with a monogram or at the very least a royal crown motif sewn in the center.
A bed crown with a gathered crib canopy
FABRICS
The texture of your baby Prince Charming bedding fabrics is as important as color and design. A blend of soft and luxurious (and washable!) cotton chenille and satin like polyester with Fleur De Lis appliqué patterns or crown prints on a solid background will be the perfect blend of textures.
Please visit Unique Baby Gear and Nursery Ideas again soon to find more royal nursery decorating ideas that you can use to decorate a room for your very own Prince Charming.