Jenny Lind Crib Replacement Parts Instruction Manuals Requests

On this page you will find resources for the Jenny Lind crib that you want for your baby's nursery, resources for crib parts, assembly instructions and pictures of painted cribs that will make your nursery design really stand out!
After doing my best to help a friend put her Jenny Lind baby crib together I made the decision to add a place where other moms-to-be could go to ask for help in finding replacement hardware and assembly instruction manuals for various brands of this popular crib.
If you have a used Jenny Lind cradle or crib that came to you with no instructions, parts or parts diagrams you are welcome to post what you are looking for using the comments form below.
Do Not Use Unsafe, Recalled or Drop-Side Baby Cribs!
Perhaps someone will see your want ad and come to your aid or share a contact phone number or a tip as to where you might find what you are looking for.
This Jenny Lind crib painted green is just one of the many colors that crafty moms with a passion for DIY are painting cribs for their baby's nursery.
We have pictures of Jenny Lind cribs painted pink, green, white and even black to inspire you to buy a can of spray paint and get to work.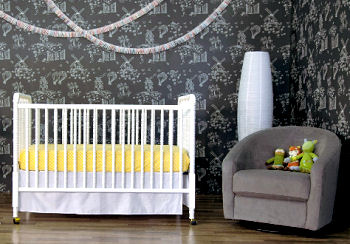 Go Here to See More
Where to Order crib parts for a Jenny Lind Baby Crib
If you know which company manufactured your baby bed I have listed some contact numbers, websites, etc. below that were shared with me by our visitors that may help you get the owner's manual you need. As I have never needed replacement parts or assembly instructions until last night, I have not tried them myself. If you have any luck, please come back and use the above form to share your information with others.
EVENFLO or GERRY
Jenny Lind baby beds manufactured by Evenflo or Gerry, we could not find the instructions for all models online but here is information that might be helpful.
The Evenflo user guide for their Jenny Lind convertible crib, the single dropside crib and toddler bed was once posted on Scribd but it has now been deleted.
This is a fantastic owner's manual as it has detailed part diagrams with numbers for every bolt, screw, dowel rod and spring!
Here are more possible resources for Evenflo Crib assembly instruction manuals and replacement crib parts.
Evenflo Customer Service
Evenflo phone numbers:(moms report better results here)
US: 1-800-233-5nine21
Canada: 1-937-773-3nine71
Delta Jenny Lind Cribs
For Delta brand Jenny Lind crib parts you can call 800-377-3seven77 for service. However, if your crib is more than 8 years old the operator may tell you that no replacement parts are available.
If you have the model number and lot number of your bed, you can plug in the parts number on this page.
SHARE YOUR JENNY LIND CRIB ASSEMBLY INST. and PARTS RESOURCES
Do you have a question about how to fix your crib or know of an instruction manual or parts resources? Post it here!
PICTURES, IDEAS and SUGGESTIONS from our FRIENDS
Click below to see contributions from other visitors to this page...

I need your help in finding both new and old crib assembly directions, a resource for those pesky old missing crib parts, replacement spindles and last but certainly not least, your opinions on the best brand of this style of baby bed.
Who Manufactures Jenny Lind Baby Cribs
I can remember when I thought Jenny Lind was the name of a company that made baby beds just like Evenflo, Delta or any other of the big name brands in baby stuff. If that were the case, finding Jenny Lind assembly instructions and parts resources wouldn't be the challenge that it is. The fact is that the term "Jenny Lind" refers to the style of the bed (that looks wonderful in a baby girl's nursery by the way) rather than a name brand and these beds have been manufactured by many companies over the years including Simmons, Delta, DaVinci, Cosco, Angel Line, Evenflo (Gerry), Dream on Me and who knows how many others. So you see how it might be impossible to assist a mom who posts that she needs an instructions manual without so much as a clue of the brand much less a model number.