Truly One of a Kind Princess Cribs and Princess Beds
Princess beds and princess carriage cribs are the ultimate in princess cribs. The baby beds that are featured on this page are not the usual, affordable Disney Princess cribs; you can expect these one-of-a-kind princess carriage cribs worthy of royalty to have price tags in the thousands rather than the usual two or three hundred dollars that is customary for a basic baby bed.




Visitors Who Like This Page Also Enjoyed these Pages:

Baby Princess Theme Nursery Ideas

Princess Wall Stickers

Princess Baby Crib Bedding



The difference in price for a custom princess bed versus the average high end crib is due to the fact that even the average designer baby crib is mass produced where one of these amazing princess baby cribs might take an artisan weeks, months or even longer than a year to build.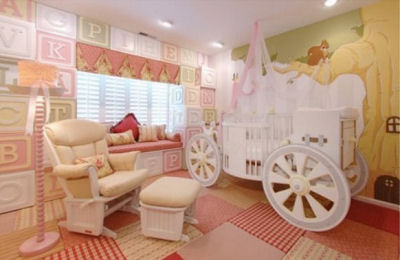 SEE MORE HERE
CUSTOM PRINCESS CARRIAGE BEDS FOR GIRLS
The ultimate in princess baby bedding and beds would have to be the magicical princess carriage bed that comes fully equipped with wheels and a beautiful canopy topper PLUS a jeweled crown. Amazingly, these fairytale coaches are designed to accept a standard size, rectangular shaped crib mattress. CAUTION: Difficulty in sleeping may occur if your tiny princess detects a pea under the mattress.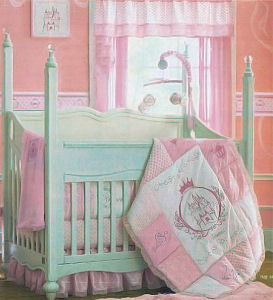 Go Here to See More
WILL A ROUND PRINCESS CRIB BE BEST?
Many parents prefer their princess beds to be round rather than shaped as a rectangle. I would imagine that this is to imitate a circular crown shape. Some round beds come with canopies and others have four bedposts topped. The posts present an excellent opportunity to personalize the baby crib with decorative finials of your choosing.


Some excellent decorations in a princess theme room might include:
Disney Princess Collectible figurines with platforms or foundations equal to the diameter of your bed posts
Green ceramic frogs that haven't been kissed and magically transformed into a prince just yet ala the princess and the frog story not that we recommend your princess kissing frogs
Disney princess magic wands or royal scepters
You can buy inexpensive princess beds with a simple pink and white color scheme that have licensed Disney princess stickers or decals on the headboard if you want a princess theme without the royal price tag. If the bed that fits with your dream of fairytale fantasy décor has been crafted of metal with intricate patterns or made from precious hardwoods, be forewarned that it will be not be cheap. Luxurious creations such as we just described are expensive.
HOW TO TRANSFORM AN INEXPENSIVE BABY CRIB INTO a BED WORTHY OF ROYALTY
Princess themes are one of the most popular baby girl's nursery themes so how can you dress up a plain wooden crib so that it's up the royal standards required by your princess nursery theme plans? A set of Disney Princess crib bedding found at a discount sale would be an excellent place to start. If you believe that all princess beds should have canopies, hang an ornate bed crown or corona to add to your Disney princess wall decorations and either cover it with fabric to match your baby's bedding or accessorize it with some draperies that match your nursery window treatments.
Most parents would not consider the high end princess beds to be practical for the most luxurious baby girl's nursery, even if they are worthy of becoming treasured family heirlooms. But, there are baby beds available in every price range that can me made worthy of royalty with a little imagination and a few appropriately themed princess accessories.
Please drop by to visit us again soon to see more designer princess cribs and Unique Baby Gear Ideas.