Modern Gray Baby Nursery Ideas
Gray Nursery Images for a Baby Boy or Girl's Room
The images on this page feature stylish gray baby nursery ideas in cheerful gray and yellow, pink and gray for a baby girl, blue and gray for a baby and neutral, modern gray and white nursery ideas suitable for either or both.
Forget the notion that this is a somber color that is too dark or uninviting for a newborn's room. The pictures in our gallery demonstrate that this neutral can be paired with colors that are bright and cheerful.
You will see pictures of nurseries painted and decorated that are anything
but
drab or dreary.
The most popular color combinations where grey really shines are:
Light Blue and Gray
Navy and Gray
Orange and Gray
Yellow and Gray
Lavender and Gray
Pink and Gray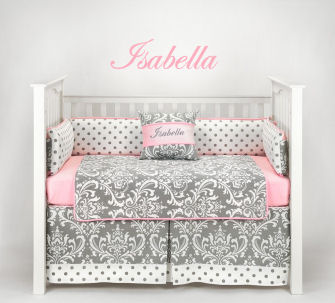 Go here to see more
What could be more feminine than white, pink and gray baby bedding in a damask pattern?
An elegant pink and grey room provides a neutral background for an understated princess baby nursery theme.
Pure white nursery furniture with the walls of the room painted gray and pink adds a crisp, clean contrast.
No matter how dark the shade of gray that is chosen for the walls; bright colors elsewhere can be added to brighten the room.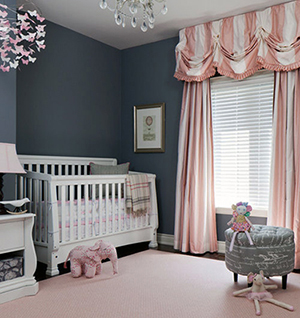 A nursery with dark grey walls can become very feminine with the addition of pink and white.
Dark grey is also a fitting foundation for a gender neutral nursery design.
Charcoal gray wall paint that is just a shade or two brighter than black surrounded by brightly colored decorations makes a bold statement.
Gray can be bold and masculine but it can also be soft and feminine.
The colors may be as soft and peaceful as a forest where the only sounds are the singing of the birds and animals quietly stepping their way through the woods over the soft green moss underfoot.
Gray and Yellow Nursery Ideas
Or the color scheme can be sunny and bright with yellow walls, a white, modern crib and nursery furniture and decorations in shades of lively spring green or even red in a unisex theme.
Gray Baby Bedding
If bold accent colors aren't your taste, perhaps a pink and gray baby nursery as soft and feminine as a baby's sigh would be more to your liking. And parents of baby boys aren't left out; a gray and blue nursery can be amazing.
Is gray nursery bedding needed in order to decorate a nursery in gray? Not only is the answer to that question no but as you will see from the pictures here; a gray baby nursery doesn't require a gray crib set.
A gray nursery can be decorated in a gender neutral style or with a touch of pink or bright yellow accent pieces and curtains.
The White and Gray Nursery
The beauty of a gray and white nursery is the freedom to go wild with accent colors.
A modern gray and white nursery is made brighter using colorful stuffed animals.
The dark grey color of the stuffed elephant on the nursery wall is in contrast to the light grey wall paint color.
The bold, bright colors of children's books add a beautiful display.
The floating wall shelves give baby and visitors to the room a better view of the artwork on the jackets adding to the decor.
The gray and white chevron curtains in this nursery are a crisp, complement to the rough edges of the homemade, paneled wall made from recycled wooden pallets.
The Pink and Gray Baby Nursery
I often recommend a pink and gray nursery to parents expecting a baby girl when either mom or dad mentions in the consultation that they don't want a pink nursery but still want a room that is girly and feminine. More times than not, when they see how a soft shade of gray neutralizes the overwhelming sweetness of pastel pink; they're hooked.
Restoration Hardware paint color "Light Grey" is the perfect complement to their popular shade of pink appropriately called "Petal Pink".
The key is to choose a shade of pink that they can live with. Some parents can only accept a shade of pink so subtle that the untrained eye sees only white. Will this pink and gray baby nursery be feminine enough to please mom? You bet! Does their baby girl's nursery have to be frilly and filled with lace to be feminine? No way!
Choose a fabric with a fun pattern in a color that complements bubblegum or hot pink and skip the ruffled curtains to have the best of both worlds.
The combination of a girly color scheme with a neutral or even a traditionally masculine theme is another way to keep pink under control.
Consider a baby owl, bird or forest theme where touches of color brighten the decor and make it feminine.
A Blue and Gray Baby Nursery for a Boy
When decorating a gray nursery for a baby boy, baby blue can present a problem.
A light shade of blue can either: A. clash with the gray paint color
B. be totally washed out
And neither is a good thing. Either paint the walls in a VERY light gray color or be prepared to accent with: a. Turquoise
b. Navy Blue
c. Teal Blue
Parents who want to avoid decorating with too much pink have found that peach is a softer alternative for a baby girl's nursery.
Decorating a Neutral Gray Baby Nursery
As I mentioned earlier, gray has replaced antique white and beige as the "new neutral". And what this means is that with gray wall paint color the sky is the limit as far as the colors that can be introduced into the space while still being considered a gender neutral nursery.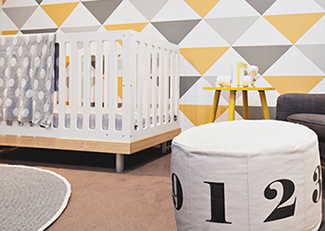 A combination of charcoal and light gray combine with yellow and white in a modern baby nursery room.
The Gray and Orange Nursery
Who ever dreamed that these two colors would be used to decorate a baby nursery at all much less used together? This color scheme doesn't sound good on paper but in person the effect can be amazing.
This color combination, when used correctly, is proof positive that gray is indeed a neutral and orange can be a very attractive accent color.
The Gray and White Nursery
A nursery decorated in monochromatic gray and white is the epitome of contemporary nursery decor.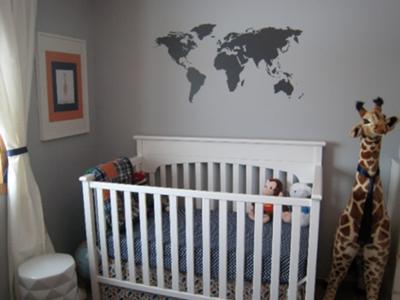 Modern Gray and Orange Baby Nursery Pictures
It's crisp, clean and anything but boring especially if the decorator is clever and creative enough to include varying shades of gray, from dark charcoal to light ash, in the mix. To make it work, lots of natural and/or artificial lighting is necessary to visually warm the space.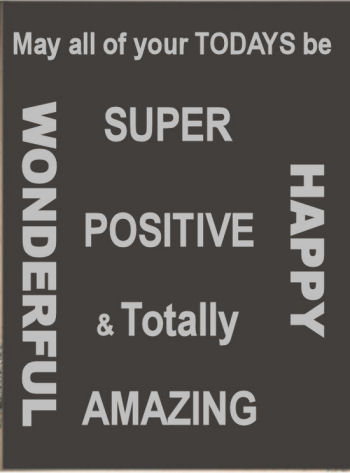 I hope that the pictures of beautifully decorated baby nurseries in gray have demonstrated how the bright colors against a neutral gray nursery wall color are all that's needed to fill a room with a fun and lively atmosphere making gray and yellow, gray and pink as well as gray and orange some of the most popular
nursery color schemes
today.
SHARE IDEAS - PICTURES of GRAY NURSERY DECOR
Do you have a great set of baby bedding or a picture of a nursery that you decorated? Share it!
NURSERY PICTURES and DECORATING IDEAS
Click below to see contributions from other visitors to this page...

If you have some ideas for decorating a
gray nursery
or some pictures of a gray baby nursery project that you would like to share, please use the form on this page that has been provided for your convenience to upload your pics and tell
Unique Baby Gear Ideas
' visitors about them. Details about your nursery's decor that you might include would be the brand and name of your gray wall paint, where you found your gray baby bedding set or fabric that you used to make your crib set and curtains if you chose to make your own.