Pink Rococo Nursery Ideas for a Baby Girl Room with a Princess Theme
Are my pink rococo nursery ideas too fussy?  Will they overpower my baby girl's princess nursery theme?   I've waited a long time for my daughter and my dream is to fill her room with beautiful furniture and a feminine crib bedding set. 

However, I want the atmosphere in the room to be delicate and refined, not tacky or overdone. Here are some the items that I have in mind.
I love the look of this baby girl's nursery with the ornate ceiling medallion and the designer crib's tufted upholstery.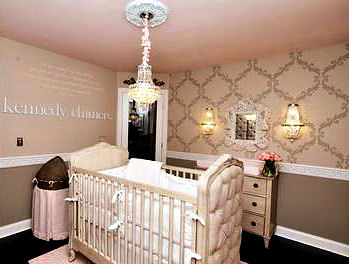 Pink Rococo Nursery Ideas with a Princess Baby Room Theme
The medallion that I chose showcases the crystal chandelier with mini-shades that match the crib set for less than $20!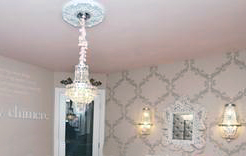 Chandelier for a Baby Girl Nursery
Notice that there is nothing in the room that screams
Princess Nursery Theme
!
This one of my favorite
quotes for a baby girl
and it's an original; I designed it myself.
The names of all the Disney princesses are, of course, not original but the little poem at the bottom of the
wall art
is all mine!
Believe it or not, all of the baby bedding sets for baby girls made it more difficult to choose than if I had only had a couple to pick from; decisions, decisions!
There are so many beautiful collections and fabric patterns that I liked.
I ultimately chose the one that had just the right shade of pink.
I finally found the perfect crib bedding set in the exact style in keeping with my
baby nursery theme
and color combination that I wanted. The moment I saw it; I knew that my search was over.
These are just a few of the pink rococo nursery ideas that I had for my baby girl's princess theme room that I actually used. If I had bought all of the decorations that I had in my scrapbook the room would have come across as cluttered and fussy and visitors that stop by Unique-Baby-Gear-Ideas.com would probably not have admired it at all. Feel free to browse the rest of
Unique Baby Gear Ideas
to see how other moms decorated their baby girl's rooms.