Baby Reed's Nursery - Room of a Future Academic
by JB
Baby Reed's nursery decor is both rustic and educational as well as charming and that is the first thing that our visitors comment on when they come for a tour. At second glance; it's obvious that the design of this grey nursery for a baby boy is as much about the love of reading as it is about appealing interior design.



His mom, Liz, is an educator with a love of books that she looks forward to sharing with her son.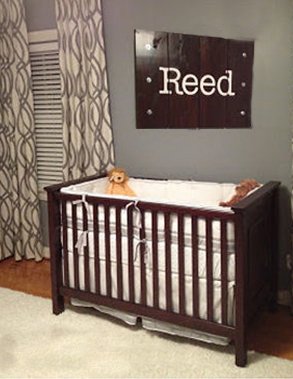 Go here to see many
wall shelves that will help you create your own nursery reading nook.
She features lots of activities and free printables on her blog to keep kids busy, engaged and enthusiastic about school and life in general.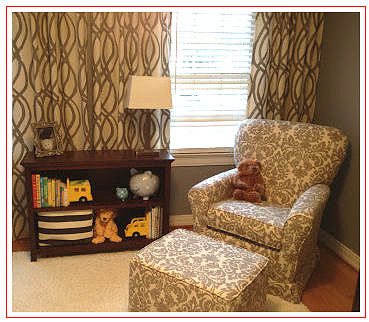 Creative Gray Baby Nursery Color Schemes
The reading nook in this warm and inviting cream-y white and gray nursery is a comfortable space where Reed and his parents can spend hours and hours enjoying the books whose colorful jackets add a
POP
of color and fun to their
baby boy's nursery
décor.
Here's a shopping list for those of you that would like a similar wall paint color, nursery curtains or baby bedding set for your own little one's room.
Mom bought the:
window treatments at West Elm
bookshelf, crib and changing table (the Fillmore set) from Pottery Barn Kids
floating bookshelves from (regular) Pottery Barn
nursery glider from PoshTots
Harper nursery baby bedding collection from Pottery Barn
and the gray wall paint color is a Benjamin Moore paint called
Timber Wolf Gray
.
Who can doubt that this precious child will have an academic mindset given his early exposure to such a broad range of reading material?
The floating shelves place the artwork on the books' covers where he can see and enjoy them even when they are closed. Dr. Seuss, Nursery Rhymes, the ABC's and many other titles are ready and waiting to delight and entertain while snuggling with mom and dad in the beautiful, comfortable chair chosen for this room.
Books can also provide an interesting place for a little fellow to take a quick nap!
I love the ideas that photographer, Rachel Elaine, of Rachel Elaine Photography had for Reed's newborn pictures. They are totally adorable and send the message that reading skills are the foundation of a happy and fulfilled life.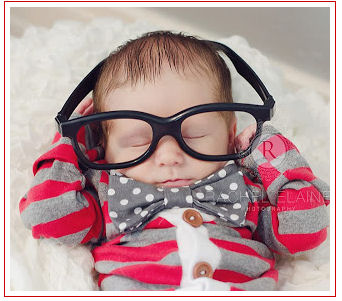 Is this the face of a future academic? Only time will tell which path he will choose.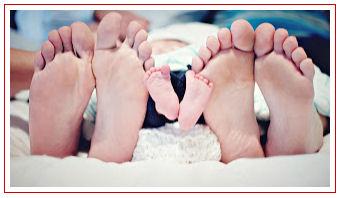 And when it's time for life's decisions to be made, he will make them with the love and support of his family.
I hope that the visitors of
Unique Baby Gear Ideas
have enjoyed seeing Liz's
baby boy nursery pictures
and that everyone will stop by to see Liz at of the
The Happy Teacher
to see more photos and the excellent educational information that she shares there!