Up, up, and Away; Hot Air Balloon Nursery
by Jessica
(Fort Collins, CO)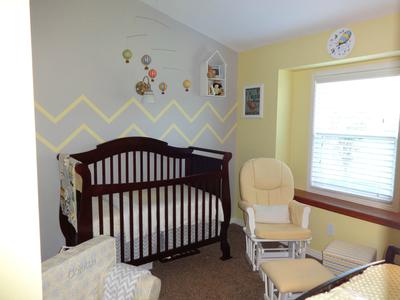 View of my baby girl's grey and yellow hot air balloon nursery theme.
The décor in my baby's Up, Up, and Away hot air balloon nursery room was inspired by old photos of Paris and hot air balloons. I wanted a nursery theme that was gender neutral but whimsical and vintage hot air balloons was perfect. Now, onto the nursery tour and details that will reveal shopping resources as well as painting tips and techniques.


Go Here to See More
I found the crib set and mobile on Etsy and with that started the decorating process. It took me a total of three months to shop, paint, and apply decals to the walls.
Could you provide details regarding the paint that you chose?
The paint brand is Diamond Vogel and the colors that I chose were;
Grey 0539a
Yellow 0833a
Instruction for the Chevron Stripes Wall Painting Technique
We applied the Chevron pattern to the nursery by first painting the area yellow then layering two rows of painter's tape in 12 inch strips 18 inches apart. With the masking in place, we then painted the entire wall grey. When the tape was removed the chevron pattern was revealed!
Where did you find the cherry baby crib?
We found the Stork Craft Vittoria cherry crib and changing table at Target.
Could you tell us more about the nursery furniture? Did you buy it all new or did you include some recycled or family pieces?
The baby's dresser is a family piece that my grandparents bought from Fred Meyer when they were married. My mom and husband stripped 30 years of paint off it and stained it Cherry to match the finish of the new furniture.
The nursery glider and ottoman are Stork Craft Hoop upholstered in yellow gingham also from Target.
The child's chair is from Pottery Barn Kids in Vivian Floral Gray and Yellow that we had personalized with our baby girl's name, Collette.
Where did you find the crib set that matches the chevron pattern of the wall so well?
The baby bedding is Atelier Edele brand which is an all organic cotton company. I purchased the set through Etsy which included a baby blanket, sheets, and the pillow that is used to make the glider even more comfortable.
The crib skirt is the "Circo Single Pleated Chevron Crib Skirt" as well as the additional crib sheet (seen in the
nursery pictures
), a yellow Circo 100% Cotton Chevron Fitted Crib Sheet both purchased from Target.
Tell us about the hot air balloon nursery wall decals and nursery wall art and accessories.
The yellow, vinyl decals on the walls are Hot Air Balloon Fabric Wall Decals by Sunny Decals and were purchased through Amazon.
The two posters located on either side of the windows are Cirque D'hiver Circus Performer Hot Air Balloon France French Europe 12" X 16" Image Size Vintage Poster Reproduction
by Heritage Posters and 8x11" inches poster "Le Ballon, Hot Air Balloon (French)". These inspiration pieces were purchased on Amazon.
Decor with unusual images sold by Variety Posters.
The set of metal Hot Air Balloon Wall Hooks by Things2Die4 and Flying the Skies Mobile Primary Colors 5 Hot Air Balloon Mobile and matching Hot Air Balloon Models in Yellow and Green with hand crafted baskets and hand woven netting by Authentic Models were also Amazon purchases.
I customized the DIY Colette canvas and paper lantern hot air balloons using idea books from Close to My Heart and Hobby Lobby with the crafts supplies purchased through the same companies.
Lighting for my baby's Up Up and Away Hot Air Balloon nursery is a Dreamy Nights Lamp and Shade from Target.
Everything in your
baby girl's nursery
is so neat and organized; can you share your secret?
All Colette's toys are stored in the grey and yellow Chevron basket next to her changing table and in the yellow, grey, and white cube located under the window. The rest of the her supplies are stored inside the changing table and dresser.
How long did it take to decorate Collette's hot air balloon nursery? And I love the
yellow and grey nursery color combination
, by the way.
It took me around 3 months to finish decorating the room since I needed to wait for the paint to dry to apply the wall decals. From what I've been told, the painting was the most challenging part. The project took my dad, brother, and husband three days to finish but it was a fun weekend and a great way to get my whole family involved and excited about the arrival of the baby!
Now that the baby's hot air balloon nursery is decorated, what do you love most about it?
I love the arrangement of hot air balloons above the closet door. I like to sit in my glider watching them move. They really give the visual effect that they are actually flying! I also think the wall decals look great. They seem to be floating over the painted chevron stripes with their peaks that almost look like mountains.
But my MOST favorite part of the process is sitting in the nursery in my glider and thinking about my little girl playing in her room.
I hope that visitors to
Unique Baby Gear Ideas
have enjoyed seeing Collette's beautifully decorated nursery room and that Jessica's design will inspire you to launch your own project "UP UP and Away!".