Ellie's Romantic Vintage Nursery
by Jan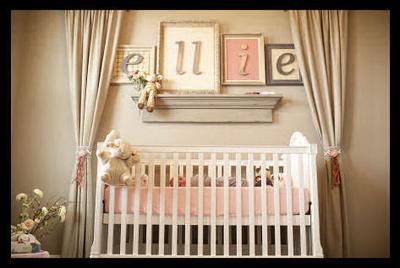 Ellie's nursery is a delight in baby girl pink, greige (a combination of gray and beige), and moss green.
I designed Ellie's romantic vintage nursery to be an oasis of sweet softness featuring a soft, muted color palette reminiscent of gentler times long past.



Baby will be warm and cozy wrapped in an ivory, crocheted baby blanket made by her Aunt Carol.



The drapes that frame the crib were made by Ellie's grandmother, Jackie, using material with a burlap-like weave that was purchased at the "Quilters Paradise" fabric store.



Monica made the cute, curtain tiebacks with notions found at the same place.
Go Here to See More
The above nursery pictures were made by
newborn baby photographer Cori Derksen
of Fresno, California who did a lovely job of capturing the vision of designer, Monica Calles of Interior Designs by Monica Calles, also of Fresno.
Below are some pictures mom took to show us some more details.
With one quick trip to Bed, Bath and Beyond to buy nursery curtain rods they were perfectly hung in place on each side of the baby's Pottery Barn crib.
The dresser, glider, bookshelf and nursery chandelier from Restoration Hardware Baby have a timeless look that will grow with Ellie and be used for many years.
Mom and her talented friend, Monica, chose the material and frames for the letters above the crib the spell Ellie's name. While shopping at a local store, "J's too", the ladies found handmade letters to hang above crib. Sadly, they didn't have letters in sizes they needed in stock. However, J's saved the day by giving them the name of the artist who was happy to help create the letters for Ellie.
Access to this resource allowed mom and Monica to design several one-of-a-kind wall arrangements using a selection of antique frames, material for the background and iron letters in a variety of sizes and colors.
Their choices add a pop of color to the neutral wall paint color, Garden Wall by Behr 730-D. Elisa told me that she chose this color over the others that Monica gave her to pick from because it reminds her of a Wendy's frosty! I tell my visitors that stop by
Unique Baby Gear Ideas
that are experiencing problems with their projects to "decorate with what you love" so this tidbit of information made my heart sing and provided an important clue as to why all aspects of Ellie's romantic,
vintage nursery
came together so well.
The shelves of this shadowbox are filled with delicate items including a framed silhouette of Elisa and Matt. The location of the piece ensures that Ellie always has her momma and daddy watching over her.
There are many items that give the space character.
Some of the decorations came from Home Goods but their modern appearance was balanced with antique store finds like the 110 year old, wooden shutters above the changing table.
One of Elisa's favorite decorations in the room is a hand painted picture that says: "It's me, Eloise".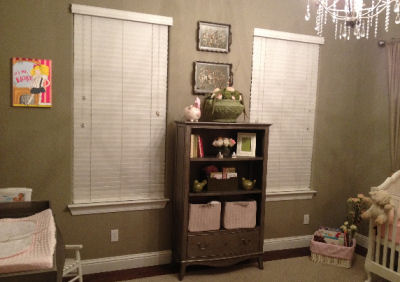 Elisa's friend, Alley, created this colorful, personalized painting just for Eloise (Ellie).
More decorations made by special people in this baby girl's life include the "Ellie" blocks and a frame received as a gift from one of Elisa's best friends that was ordered from Etsy and personalized with her name and words from the book "Brown Bear".
As you see in the photo, there is a wicker basket decorated with silk flowers to the left of the crib used organize all of the books received at the baby shower, hosted by Elisa's sister, Jennier. Her sister asked that guests buy Eloise a book and leave a note and their signature on the inside cover rather than buying cards. This thoughtful idea added lots of books with sweet messages that can be kept and enjoyed for a lifetime to the nursery library.
Thanks to Cori Derksen for allowing us to share her amazing work. If you are near Fresno and are looking for a photographer you can contact her via her website and if, like me, you are thousands of miles away treat yourself to a break and visit her photo gallery.
If you are located in the area and need help with a decorating project, Monica of Interior Designs by Monica Calles would be my first recommendation. She can be contacted by phone at 559-978-49four3 or by email monicacalles49 at hotmail.com.
I hope that you have enjoyed the tour of Ellie's romantic vintage nursery and that you will leave a comment to let Mom know how much you enjoyed her
baby girl's nursery pictures
.