Piper's Pink and Grey Nursery Room
by Jan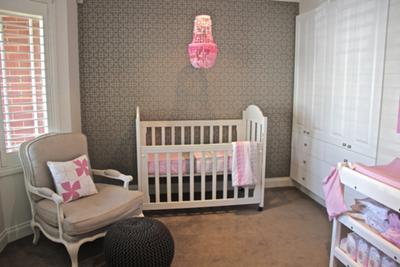 Piper's pink and grey nursery is a modern room with many traditional feminine touches perfect for a baby girl's room.
Piper's pink and grey nursery room is a wonderful example of the reasons why the color grey should be on every decorator's list of neutrals. In fact, in my opinion, it should be listed a few lines above beige and brown especially for a baby girl's nursery.


A few years ago, pink and brown was all the rage in nursery color schemes and we all celebrated the calming effect that earth tones added to the mix.



See more ideas similar to the ones in Piper's pink and grey nursery room in our photo gallery.
But as much as I enjoy decorating a nursery in pink and brown; I like pink and grey so much better.
An eclectic assortment of pink, grey and white fabrics add a lively mix of patterns including happy pinwheels in various colors and sizes from medium large to tiny graphics that are so small that the material seems almost to be a solid color unless you inspect it closely.
The pink and white pinwheel print fabric with large graphics has been used to make an accent pillow.
The throw pillow adds a lighthearted bit of fun to the elegant, upholstered armchair located near the window. The fluffy pillow offers back support and the charcoal gray pouf gives mom and dad a place to prop up their feet while they relax and enjoy a snuggle with their baby girl.
If the focus of the seating area of the nursery is comfort, the changing area of Piper's
pink nursery
is all business.
The baby's diaper changer is efficient and well-stocked with everything mommy will need for a quick diaper and clothing change. Additional shelving holding numerous storage baskets filled with toys and nursery necessities is also within arm's reach.
The large, canvas displaying the letter "P" on the nursery wall repeats the shade of pink chosen for the changing pad and personalizes the space in a very modern fashion.
Speaking of pink, one of the most eye-catching pops of bright pink is the pretty chandelier hung from the ceiling over Piper's crib.
The inexpensive pink nursery chandelier also serves as a crib mobile that entertains the baby as it flutters with each passing breeze.
Thanks to Nicole of Little Liberty (which does not seem to be functional at this time) for sharing her beautiful nursery ideas with
Unique Baby Gear Ideas
. We look forward to seeing more of her work in the future and encourage all of you to visit her blog to see more
baby nursery pictures
and to perhaps talk to her about decorating your baby's room.