Nursery Full of Bright Colors
by Jan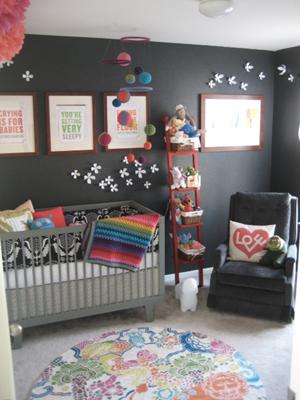 Colorful Baby Girl Nursery w Charcoal Gray Wall - The gray wall color serves as a background that makes the colorful decorations in the room like the homemade baby mobile really POP!
If you like the thought of a nursery full of bright colors for your baby; I have pictures and some sewing, painting and arts and crafts ideas that you will want to see.



From the colorful rug on the floor to the bold framed art prints that really stand out on against the dark wall color; this nursery project is an inspiration to those who rail against traditional nursery decorating rules.



Quilting, knitting and crocheting preserves sanity for so many women during pregnancy and this example demonstrates how the beautiful knit and crochet items they create can be used to decorate the baby's room.

Visit ScreamyMimi23 here to see DIY items made for this room.
Michele had rented for many years and when she bought a home she was ready to leave boring colors behind.
The paint color she chose for her baby girl's dark
gray nursery
wall was Iron Ore by Sherwin Williams!
After living with bland, neutral colors most of us would go crazy with wild shades of pink, purple or neon blue.
In the early stages of the design process she considered painting the nursery in various shades of pink as well as olive green.
Ultimately, these colors were rejected as colors for the wall although they are seen elsewhere in the nursery.
Making a paint color selection proved to be difficult plus there were so many wall painting techniques to pick from. All of the paint colors and patterns became overwhelming and the decision was made to scrap everything and start over. At this point, she focused her decorative decisions on a crocheted, rainbow color granny stripe blanket.
Well, she had me hooked at "scrapping the original plan"! How many of us have felt guilty about backing up and starting over after investing more time (and sometimes more money) on a design that, in the end, just didn't work. People who knit and crochet know the benefits of unraveling and starting over from scratch and this baby's
nursery colors
came to be based on the mom's lovely knit and crochet baby crib mobile, blanket and more clearly demonstrates the satisfying results that can be had from making a fresh start!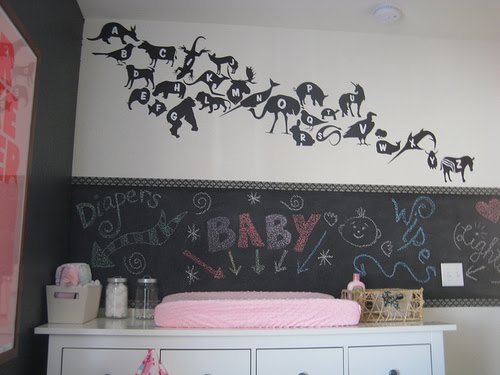 Were there any difficult decorative decisions had to be made?
It was a challenge to view items that we already owned in a new context. The difficulty came in blending the pieces from our older daughter's nursery, like the Oeuf crib, the dresser, the red bookshelf and the recliner, with the new items that had a completely different look.
As lovely as it is, charcoal gray is not a common paint color for a baby's room. Can you tell us why you chose it over say, a girly color?
The colors in the crocheted blanket were very bright and it became clear that I had two choices. Everything else in the room would have to be a perfect color match or be grayscale; I chose the latter. The gray walls provide a neutral backdrop for the items that I love and make them stand out. Think of a cloudy, overcast day when the sun suddenly peeks though making the colors of the flowers or a rainbow brighter and lovelier by contrast.
Speaking as a person who loves yarn, the blanket that was your inspiration really catches my eye and I love the way that the colors in the artwork tie into the colors of many of the rows. What is YOUR favorite feature of the nursery?
The crib mobile is my favorite, that and the blanket. In my opinion, these handmade items are the heart of the nursery. I made them both myself and I now have them for sale at my Etsy shop, Screamy Mimi!
What did you find was the most expensive part of the decorating process?
The prices of reupholstering my grandmother's recliner and the purchase of the Anthropologie rug were similar so they would be tied for first place in the "most expensive" category. We were very fortunate to already have the crib on hand which otherwise would have been a big expense.
Do you have any advice to offer new parents that are about to decorate their first nursery?
Unique Baby Gear Ideas
advises never to settle for something that you aren't crazy about just because you haven't found something you love…yet.
The item that you are looking for could be just around the corner. Besides, it's sometimes best to let the process take its course and not make forced decisions. Allow your ideas evolve and let the function of the space influence your choices. There are those "Eureka" moments but they should be tempered with practicality. Remember that it will not matter during your little one's first years how stylish the space is if it proves to be uncomfortable and impractical.
That ends Michele's colorful nursery tour. If you would like a similar blanket and crib mobile, please visit her Etsy shop and see what she has for sale!
Shopping Resources for Michele's Colorful Nursery
Crib: Sparrow - Oeuf
Red shelf: IKEA Rexbo (discontinued (I think)
Nursery Area Rug: Dream Menagerie rug from Anthropologie
Floor lamp: Offi My Pet Dachshund
Wall Paint Color: Iron Ore by Sherwin-Williams
Crib skirt and bumper: Homemade by Michele
Set of 3 posters over the baby's crib: Subliminal Baby series by Sycamore Street Press on Etsy
Tutti Fruitti poster on the wall to right of the red book shelf: Keep Calm Gallery
Poster For Like Ever: from Village
Paper pom poms: Pink, Indubitably by Pom Love
Wall flowers by Umbra: Sold in many stores including Bed, Bath, and Beyond and others
Bookshelf under window: West Elm
Decal: Alphabet Zoo Re-stik decal from Blik