Pretty Pink and Gray Princess Nursery for Our Baby Girl
by Kristina
(Woodbridge, NJ)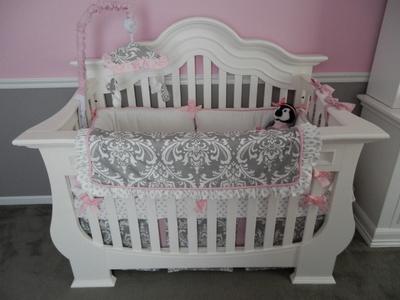 Elegant white pink and gray damask baby crib bedding set for a girl's princess theme nursery room
Here are pictures of the pretty pink and gray princess nursery that we recently decorated for our baby girl. We feel that the room is a feminine yet functional space that can grow with our daughter from infancy through the toddler years. The nursery's colors are simple, yet elegant resulting in a room that is very regal and yes, fit for a princess.


We skipped over the butterfly and flower themed baby bedding that we found in Babies R Us and Buy Buy Baby and chose a damask baby bedding set that we saw online that we really fell in love with instead. To choose the paint colors and decorative accents, we worked off the fabric and colors of the crib set. Knowing that the gray and
pink nursery
color combination is the new brown and pink that was so popular a few years ago, we created a design within the space that was original and unique.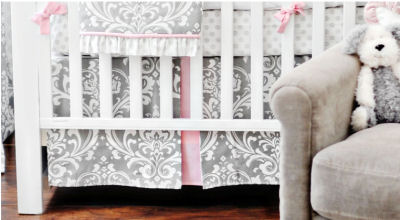 Go here to see
pink and grey damask crib sets for your project.




Pink and Grey Nursery Designs and Styles

We chose a combination of classic, traditional and vintage decor rather than a theme although a pink and gray elephant theme nursery would have been very cute.



Nursery Project and Shopping Details
The Furniture Collection, Munire: Capri in White
We had a tough time finding furniture that was truly "WHITE". Most of the collections were called French white, vintage white or ivory which all had a yellow tint to the finish. I wanted bright white furniture and continued to look until I found this beautiful set.



Bedding: New Arrival's Stella bedding set
I conducted an image search online for pink and gray baby bedding and found this set for sale on a few websites. I also found that designers on Etsy.com are making their own replicas of this exact set but I chose to buy it right from the original manufacturer because I needed it to be perfect! http://www.newarrivalsinc.com/Stella-Gray-Baby-Bedding_p_2648.html

However, I purchased coordinating bedding accessories, nursery curtains, a baby mobile, diaper stacker and a monogrammed pillow on Etsy from Mellissa's Boutique. http://www.etsy.com/shop/mellissasboutique?ref=seller_info

I love this glider; it's the exact chair I wanted and finally found it on Buy Buy Baby. This gray glider and ottoman set is the more budget friendly version of the "Lacey" glider by Klaussner. I would advise any mom-to-be to visit Buy Buy Baby to see more nursery rockers and gliders. They have a much larger selection of different styles and colors in the store than they do online. Plus, you can also use coupons to get a discount on this item!)


Pink Chandelier - Lydia Chandelier from Pottery Barn Kids
This pink chandelier is covered in sparkling beads and faceted glass crystal. Lighting is so important to create the desired atmosphere in a room and this fixture was perfect.


I ordered the round pink nursery rug from Amazon.com.


Personalized Addison Chairs

I received both of the chairs as gifts at my baby shower. However, I do know the pink one came from Toys R Us.


Nursery Wall Hangings and Picture Frames
These items were purchased from Hobby Lobby and Bed, Bath and Beyond.


DIY Baby Crafts Project

To make the Addison blocks I used 4 inch blocks purchased from AC Moore, painted them with acrylic craft paint and added the embelishments with a hot glue gun. I found these on Etsy at a price of $11 per block and decided to just make them myself!


Favorite Features of our Baby Girl's Pink and Gray Princess Nursery

My favorite items in our baby girl's nursery are the furnishings. It was important to find white furniture because I really wanted a match to the wooden chair rail and white trim. I knew the white furniture and trim would break up the pink and gray walls and felt that it complemented the elegance of the damask baby bedding set.

My next favorite item in the room is the chandelier. It's pink and perfect for my little princess' room!


Decorating Advice

My advice when designing a nursery is to first pick a crib set or fabric and work from there. Choose a colors and furniture styles that will match the fabric.

Please visit the gallery of baby girl nursery pictures featured by Unique Baby Gear Ideas to get more ideas for decorating a little princess nursery.