Modern Baby Nursery Ideas for Classic Gender Neutral, Boy and Girl Room Themes

I am overjoyed to present the collection of modern baby nursery ideas to parents that would love to see a new take on classic nursery themes.  There are modern gender neutral ideas that will suit either a boy or a girl as well as some gender specific designs guaranteed to surprise and delight our urban dwelling visitors.

If you have never held a particular fondness for rooms decorated in pale pink, blue or even neutral green or lavender this article may be exactly what you have been waiting for.
The modern or contemporary home is the perfect setting for the lovely designs in the pictures that you will see. But don't allow yourself to be restricted to a copycat design; allow your imagination to embellish and personalize so that the space is truly your own.
The combination of a large geometric pattern in charcoal grey, light grey, white and yellow and bold graphics in this neutral nursery design are what bumped it to the top of our list. The bright pops of yellow take the varying shades of grey from (what would otherwise have been) drab to fabulously contemporary.
The ottoman with large number graphics give a slight tip of the hat to a classic educational theme.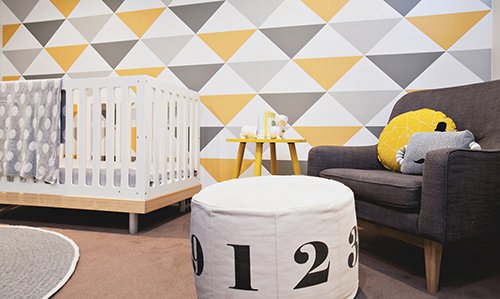 Modern Gray Baby Nursery Ideas
The sunny color, yellow, is once again the gender neutral star in the color scheme of this light and airy room. The placement of the puca shell crib mobile is so that it might be rustled by the gentle breezes from the large windows creating natural white noise.
Modern Giraffe Baby Nursery
A single alphabet wall hanging is the only reference to a theme and a pink throw pillow designates this cozy, contemporary reading nook as a spot to relax in a
baby girl nursery
.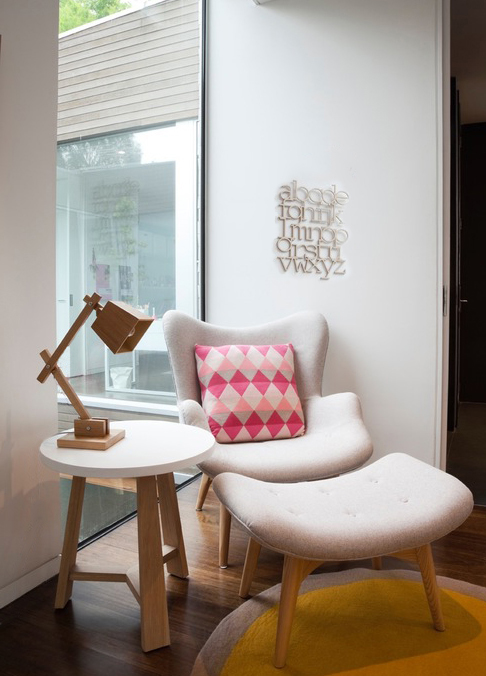 Alphabet Baby Nursery Ideas
Three classic
baby nursery themes
are getting an entirely new and yes, quirky, look in this project where they come together in one of the latest decorating trends; southwestern decor. The basket, the teepee and even the wooden beads that disturbingly resemble a rattlesnake are all common elements of desert themed decor.
Southwest Baby Nursery
A delightfully huge monkey, a giraffe and elephant rendered in a grey outline on the crib wall is an easy and affordable focal point.
Safari Baby Nursry
What could we title the modern baby nursery ideas we see in the next picture that would be more fitting than Foxy Moroccan?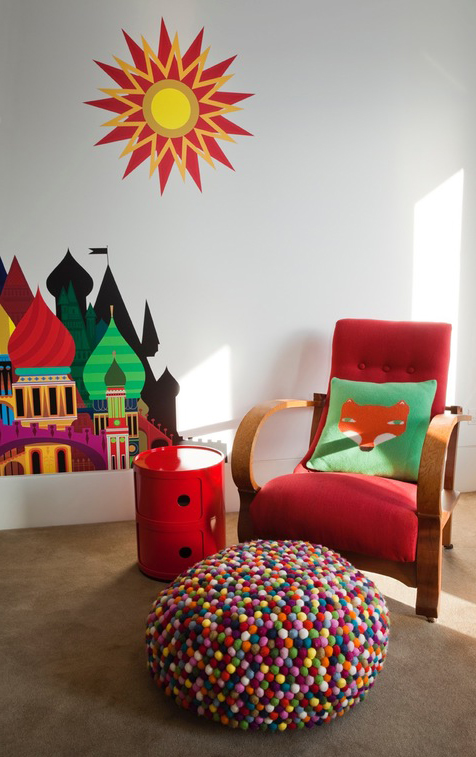 Moroccan Nursery Decorating Ideas
A badger, a deer, rustic log wall decorations and a funky fun crib set it wildly, unnatural colors are just a few of the modern baby nursery ideas in this project.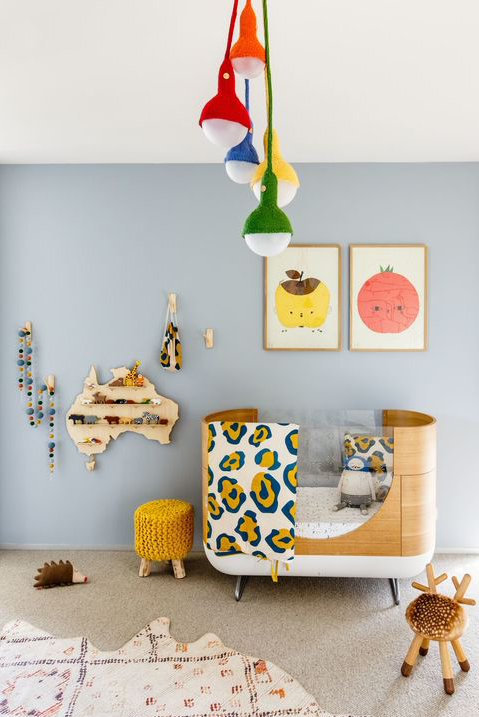 Forest Friends Nursery
Unique Baby Gear Ideas
would like to thank
Nicole Rosenberg of Little Liberty Designs
for allowing us to give our visitors tours of these amazing rooms. Please visit her blog to see more of her portfolio and to contact her should you require her services.