YELLOW BABY NURSERY ....NOT!
by Amy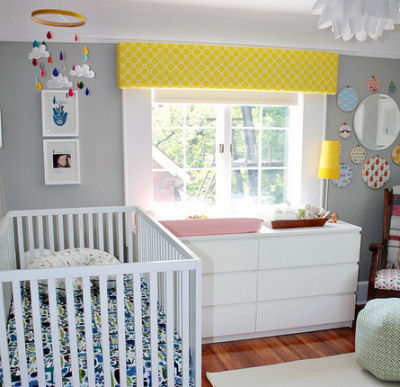 Colorful Yellow and Gray Baby Nursery Design
At first glance, you might think, "Ah, a yellow baby nursery". At second glance, "Ahhh, A GRAY and yellow nursery color scheme". Then, if you really, really look you will realize that most yellow baby rooms don't come close to this nursery so far as color is concerned.








Page 1, Page 2, Page 3, Page 4



SEE MORE HERE
The most eye catching part of the decor (other than our beautiful baby, of course) that sets the tone for the rest of the room is the bright yellow and white fabric (Dots and Lines fabric by Dolphin and Condor printed at Spoonflower) that I used as the inspiration for my
baby nursery ideas
and to make my window valances.
But keep looking because once you allow your gaze to travel you will see that there is one lively punch of color after the other in our sunny nursery design.
After the yellow baby nursery window treatments, were in place it seemed to me that the wall over the crib could use a splash of color to brighten the gray paint color but I already had all the framed prints hung that I wanted. The solution to my problem was the colorful bunting that I made myself using scrapbooking paper, contact paper and spray adhesive. I covered a large area of wall with amazing results and the craft was both easy and cheap!
This was not the only part of the baby's room that I decorated with items that I made myself. I upholstered the rocking, made the crib skirt, made the ottoman myself out of Waverly cross section green fabric that came from JoAnn.
PLUS the accent pillows were all made by yours truly from fabrics that I designed and were printed at Spoonflower!
Other items that I made myself include the:
The rainy day baby mobile that I made using felt, polyfill and a 12" wooden embroidery hoop

The framed birth announcement and Three birds print

The colorful wall collage that I designed using various sizes of embroidery hoops with colorful fabrics displayed inside
Here are the shopping resources for all other aspects of our colorful yellow baby nursery design:
FABRICS
Yellow and White Yellow Baby nursery window cornices - Dots and Lines fabric by Dolphin and Condor printed at Spoonflower
Rocking chair Vine fabric (that I designed) and printed at Spoonflower
I used my own chevron fabric to sew the baby's crib skirt
I made the throw pillows using Wweimaraner,
labrador, chevron, kumquat, vine fabrics,
designed by me and printed at spoonflower
PAINT COLORS Used in the Baby's
Gray and Yellow Nursery
Gray nursery wall Paint color - Benjamin Moore EcoSpec Egg Shell in Gray Horse 2140-50

Molding Paint - Benjamin Moore EcoSpec Semi-gloss in Pure White

Paint color on the green book case - Gloss Meadow Green Rustoleum 2x ultracover
MISCELLANEOUS
Window seat/bookcase/ Ikea Expedit shelving unit

Window seat baskets/ Ikea Pjas basket

Moose/ Ikea Ekorre rocking moose

Fan/ purchased many years ago

Bird serving tray (on the green shelf)/ Ikea barbar tray

Ipod docking station/ memorex minimove

Floral accent pillow/ Dwell studio for Target

Hockey skate booties/ Irish Hooks and Yarn

From Deep Below paper cut print (whale)/ Fog and
Thistle

Monsieur Under the Rain print/ Cosas Minimas

Crib/ Amy Coe Westport Lifetime Crib

Dresser/changing table/ Ikea Malm 6-drawer dresser

Lamp/ Ikea Hemma lamp base and yellow skirma shade

Ceiling fixture/ Ikea Knappa pendant lamp

Rug/ Ikea Havbro wool rug

Clock/ Baby Ben folding alarm clock

Round Bevel Mirror/ Target

Wooden Tray with glass lining/ Target

Roller shades/ Levolor room darkening roller shades

Plaid wool throw/ Roots

Crib sheet and changing pad cover/ Carousel designs


I made many of the decorations for our baby's nursery myself using fabrics in patterns I designed myself or bought from Spoonflower that added so much of the color to what otherwise may have been just another gender neutral yellow baby nursery design.

From the webmaster:

Thanks so much, Amy, for sharing your
gender neutral nursery ideas with us and for entering our baby nursery pictures contest.

I expect to hear that DIY decorators are snapping up the fabrics that were printed by Spoonflower to use in their baby's rooms. And who can blame them after seeing your precious pictures?