Modern World Map Nursery Ideas
by Jan
I cruised around online looking for modern world map nursery ideas and was about to give up and call it a day when I found these nursery pictures.



Every interior decorating magazine I subscribe to has at least one picture of a room in someone's home with a vintage map framed and hung on a wall.






While I love the look of maps, both old and new,on walls, I much prefer a look for a baby's room that doesn't remind me of a dusty, old classroom and how badly I hated geography class. And I found the exact style that I was looking for in Katie's baby's room.
SEE MORE HERE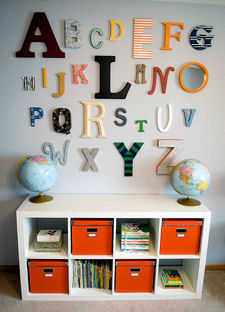 SEE MORE HERE
To give you a little background on the talent behind this adorable modern nursery design , Katie is an interior designer that owns Refresh Design Studio www.refreshdesignstudio.com so we shouldn't be surprised that her nursery is amazing, right?
Alrighty, I know you want to hear all about her
baby nursery ideas
and exactly how she put it all together so here we go!.
Q. How long did it take you to decorate the room from start to finish?
A. About three (3) months
Q. How much did it cost?
A. $600
Page 1
,
Page 2
,
Page 3
,
Page 4
,
Page 5
,
Page 6
Q. What was your starting point?
A. We began by painting the nursery walls a light
gray nursery
paint color called Glidden Winter Evening, but we had it mixed in Olympic brand Low VOC paint and having the carpet cleaned.
Q. Where did you find the precious polka dot fitted crib sheet?
A. My mother-in-law custom made the crib sheets using fabric from Hancock fabrics and the crib quilt and skirt using material from JoAnn Fabrics.
Q. Where did you buy the cute, orange nursery rocking chair?
A. The contemporary rocker was actually a garage sale purchase that I gave a makeover to fit the room. I painted it and reupholstered it with orange fabric to fit the room. We bought the Graco Lauren Crib at Babies R Us but the baby's dresser, bookshelf, the storage bins, the window treatments and area rug were all found at IKEA.
Q. Where did you find the
modern world map nursery
nursery wall decal and the rest of the decorations that we see in the pictures?
A. I found the vintage globes at a thrift store and bought the world map wall decal from an Etsy seller. We made the artwork and the burlap bulletin board ourselves and painted the alphabet letters as a baby shower activity.
Q. Is there anything that we don't see in the pictures that you would like to mention?
A. One of the most useful features in the nursery is the custom closet design. I removed the existing shelves and rearranged them to better suit the storage needs of a newborn.
Thanks to Katie for sharing the details and shopping resources of her modern world map nursery decor and www.paperlemonphotography.com/ Paper Lemon Photography for sharing their excellent photos with
Unique Baby Gear Ideas
.
Shopping Resources:
Fleece blanket fabric, alphabet letters, orange rocker upholstery fabric, orange rickrack window treatment trim - JoAnn Fabrics
Bookshelf, orange storage boxes, curtains, window shade, chair pillow, area rug, dresser - IKEA
Curtain Rod- Linens N Things
Garden Stool- Home Goods
Dresser Drawer Pulls - Pottery Barn
Stuffed Giraffe- Amazon.com