Baby Girl Nursery Pictures Gallery
Photos Filled with Girl Nursery Decorating Ideas
Welcome to Unique Baby Gear Ideas gallery of baby girl nursery pictures where professional as well as the DIY decorator can pick up cute girl nursery ideas and decorating tips.  The photos are shared by many wonderful moms that visit my site.  These parents are some of the most  creative individuals and they have so many tips and tricks to share with you that even 1,000 words could describe; the pictures are that beautiful.

The photos of baby girl nursery ideas feature the latest colors, themes and styles for the small nursery rooms that are typical in an apartment as well as large, elegant nurseries in high end homes with luxury furniture and designer baby bedding that will take your breath away.
Grab a notebook, put your feet up and prepare to see exactly what the old saying that a picture is worth a thousand words actually means. Remember that decorating a baby's room doesn't have to be expensive. It's the love put into the project that means the most, not how much money is spent.
Visitors Who Stopped by to See Pictures of Baby Girl Nurseries Also Enjoyed these Pages:
Baby Girl Nursery Themes
Baby Girl Nursery Bedding
Baby Girl Nursery Ideas
Page 1
,
Page 2
,
Page 3
,
Page 4
,
Page 5
,
Page 6
,
Page 7
GIRL'S NURSERY PICTURES
Share pictures of your baby girl's nursery!
PRECIOUS BABY GIRL NURSERY PICTURES
CHECK OUT THE CUTE NURSERIES DECORATED BY MOMS JUST LIKE YOURSELF!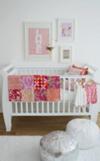 Allegra's Pretty Baby Girl Nursery Tied Up with a Bouw

Do you think that the word "bow" in the title of this article, Allegra's pretty baby girl nursery tied up with a Bouw is misspelled? Well, the spelling …
Pink and Turquoise Baby Girl Nursery Decor

The white, pink and turquoise nursery decor that are in the photos I have posted on this page is, for lack of a better description, refreshing! Every …

ONE-of-a-KIND BABY GIRL NURSERY Not rated yet
Our vision for a one-of-a-kind baby girl nursery; well was something romantic. I had a vision and my Mr. was not only on board with my decorating ideas …
I'm sure that you will agree that the baby girl nursery pictures that have been submitted to my baby nursery photo contest over the past few years are a virtual treasure trove of nursery decorating ideas!
There are
baby girl nursery photos
displaying modern color schemes and cute
baby girl nursery themes
that will give you ideas as to what is new in the world of nursery design. This gallery of
baby girl nursery images
will give you a running start in decorating a cute nursery for your precious infant.
I hope that you can put the
Unique Baby Gear Ideas
that you find in the beautifully decorated nursery pictures on display in our gallery to good use and that you will share your own baby girl nursery pictures when you are done decorating your baby girl's room.