Creative DIY Baby Nursery Wall Ideas for Recycled Wood Pallets 
The baby nursery wall ideas for recycled wood pallets that you see here would be perfect for a beach cottage theme nursery or for a rustic room anywhere in your home.  You might paint or white-wash the wooden pallets as Nancy, the crafty stay-at-home mom over at Owen's Olivia chose to do or leave them un-painted and rough for a rustic look.  Whatever type of décor you are working with; as you can see this is recycling at its very best!
So many times we ponder and fret over what kind of
nursery wall art
we should buy and how best to hang it and where...the decisions to be made can be mind-boggling and endless. But what if the wall is a work of art on its own like this one?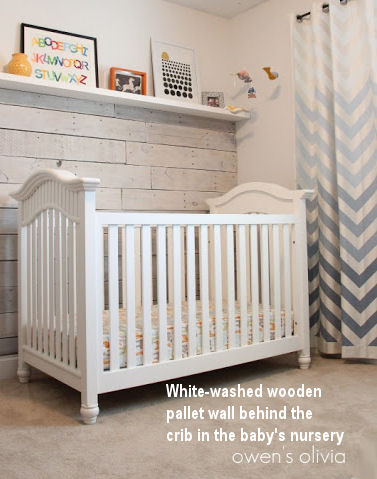 Nursery Wall Ideas for Recycled Wood Pallets
To be clear, this is not one of the many easy DIY decorating projects that just seems to take care of itself. Visit
Owen's Olivia
to see a detailed tutorial with step-by-step instructions that will show you how to make your own wall using recycled wood pallet as well as whitewashing and other crafts.
It should be obvious to experienced carpenters who know their way around nursery furniture and crib woodworking plans that it will take some work to turn the boards into paneling.
The first step is to find a resource for your materials. Any business who receives heavy freight may have some ready for recycling waiting for you in their burn pile. Load them up and deliver them to your site and
THEN
tear them apart and remove the nails before measuring them, sawing them into the length you need, sanding them smooth and painting or whitewashing them (unless you are decorating a rustic nursery where a rough finish is desirable) and finally hanging them on the nursery wall. But take heart; not only are you recycling and doing your part to keep Mother Earth green for the next generation but creating a unique focal point for your child's room that is virtually indestructible.
Working with recycled wood pallets can be physically challenging but the upside is this may be the perfect project for a beginner. A few flaws add rather than detract from their rustic charm and will be viewed as shabby chic rather than the work of an amateur! The ends of each board do not have to meet exactly or even lie perfectly flat as you can see from the
nursery pictures
.
There is still a lot of work involved even though perfection is not the goal and the look is not match-y, match-y. You will enjoy the results for many years even with a few gaps.
Here's a peek at what the wall would look like using boards that are left to age with their natural, rough finish intact.
This may be the perfect wall for a rough and tumble baby boy's nursery; no painting required!
The natural, neutral finish of the wood will last through many makeovers providing endless opportunities for colorful decorations such as the pretty, homemade bird mobile and artwork display on the shelf that Nancy created.
Nursery Wall Ideas That Will Grow With Your Child
After putting all this work into paneling the walls; I would not like the idea of having to remove it when the crib is converted into a big kid bed. It's good to know that if the design is chosen carefully the paneled wall will be a nice background for a toddler or twin size bed. I love the way that Nancy placed the shelf at just the right height so that the wall can be used as a decorative headboard. The work she put into the recycled wood pallets wall will be re-invented every few years! It can even be a backdrop for a desk further down the road.
I'm sure that visitors to
Unique Baby Gear Ideas
will find many creative uses for wooden pallets in both their recycling and decorating efforts and it would be so cool if you would stop back by to show off your own nursery wall ideas for recycled wood pallets to inspire us when you're done.