Brown and Pink Nursery Theme Ideas with DIY Decor and Crafts Ideas for a Baby Girl's Room
We have tips and ideas that will make decorating a brown and pink nursery theme for your baby girl one of the easiest and most successful DIY interior decorating projects ever!  There are so many cute pink and brown print fabrics to use in making a custom baby bedding set or curtains and you are sure to find one that you love.
There are patterns featuring pink and brown polka dots and damask as well as classic French toile in deep, dark chocolate brown that are a feast for the eyes.
The pinks range from rose red to the palest shades of baby girl pinks. The browns vary from the deep chocolate browns to light tans. Pink and brown polka dot bedding is so cute that kids of all ages will love it.
Moms and dads with DIY savvy can create a winning design with the use of some easy craft projects like a paper nursery chandelier in any shade of pink or brown you choose and plain, white curtain panels made fabulous for less than $5.
It's so simple to take decorations and window treatments picked up at the local discount store and use them as the foundation of something extraordinary.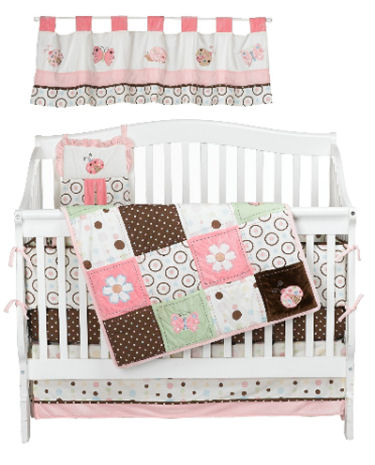 SEE MORE HERE
There are so many pretty toile wallpapers, borders and accessories with little baby bunnies, teddy bears and other baby animals that blend so well with circus toile, bunny toile and other toile fabrics in childrens designs but for those of you who prefer something less complicated; we have polka dots.
Grey wall paint often contains brown undertones as is the case in this elegant baby girl's nursery.
"Greige" (which is a combination of the words grey and beige) is lovely when used in a peach or pink color scheme.
A brown and pink nursery theme for a baby girl with tan walls decorated in polka dots is precious but wait! This is just one example that we have to show you.
We have many, many more
baby girl nursery pictures
that are chock full of pink and brown baby nursery decorating ideas and tips for you!
As you might imagine these popular nursery colors lend themselves well to a large number of popular nursery themes for girls. A patchwork crib quilt in a brown and pink nursery theme for a little princess is made elegant with the addition of a crib crown and canopy decorated with faux jewels.
Flowering trees are excellent inspiration for decorations and accessories for a
pink and brown nursery theme
. A tree wall mural with branches covered in flowers is often accompanied by crib bedding with a pink and brown floral design.
The pink and brown color scheme can be very light and airy. If space allows, a large tree wall decal can be decorated with pink flowers. In a small nursery, a few flowering branches will suffice.
A color that is a combination of gray and beige come together to make a soft color known in decorating circles as "greige" that looks so fine with salmon pink and forest green.
Pink silk roses and and brown satin ribbons are a perfect blend of texture as well as color.
An arrangement of pink silk rose covered balls hung by chocolate brown satin ribbons add feminine flair to a French theme baby girl nursery.
Woodland themes with brown bunnies wiggling their pretty pink noses and chocolate brown toile with pink accessories are timeless and will be forever fashionable.
Forest themes are nice especially when the trees and woodland creatures are surrounding an enchanting castle right out of a fairytale in a baby girl's princess nursery.
If you would like to know how to decorate a pink and brown nursery so that it is less "girly", a set of cheetah or leopard print baby bedding will do the trick.
Salmon pink and coral are positively amazing when paired with leopard or cheetah print. Wild animal prints in a baby's room, depending on the accompanying decorations, take the space in a very exotic direction.
With the latest fabrics, decorating a bird themed nursery in pink and brown is possible.
A brown and pink nursery theme featuring birds brings almost as many color combinations as a floral nursery. There may be few pink birds, other than the pretty flamingo, in nature but since when have decorators let a lack of natural inspiration slow them down?
For instance, there are lots of
pink and brown baby bedding
with butterflies but I've never seen one in my garden in those colors.
SHARE IDEAS - PICTURES of BROWN & NURSERY DECOR
Do you have a great set of baby bedding or a picture of a nursery that you decorated? Share it!
NURSERY PICTURES, IDEAS and SUGGESTIONS from our FRIENDS
Click below to see contributions from other visitors to this page...

To see more brown and pink nursery theme ideas and designs, please visit
Unique Baby Gear Ideas
again soon.