Lilly Pulitzer Baby Bedding for a Baby Girl's Mermaid Flamingo Nursery Ideas

Lilly Pulitzer baby bedding is an excellent choice for a pink flamingo or mermaid nursery design for a baby girl. Lilly fabrics feature the allure of a tropical island with colorful flowers and beach scenes and are an excellent place to start in decorating a feminine nursery reminiscent of the tropics.




Many parents and professional decorators alike struggle in their search for suitable bedding and window treatments for a pink flamingo theme with an island vacation feel to it. Search no more; this brand fits the bill.




Go here to see the latest Lilly Pulitzer crib bedding and nursery decor.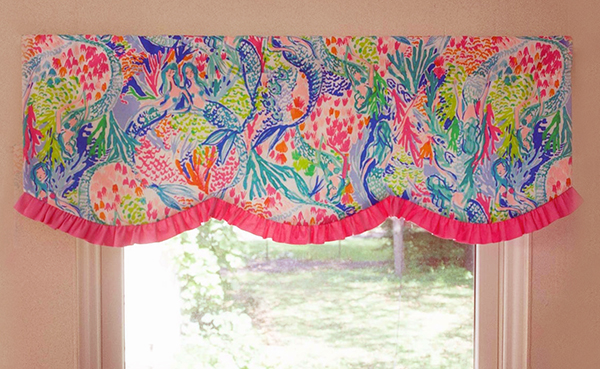 Lilly Pulitzer Mermaid Nursery Window Curtains
The coral pink ruffle picks up the color in the fabric and adds a very feminine finishing touch to the scalloped window topper.
Flamingo Nursery
A baby's nursery decorated in a flamingo theme can be bright with all the colors to be found in the sunshine state of Florida or the tropical flowers of the Hawaiian islands.


The mom that designed this room is a professional decorator whose goal was to avoid the usual, run-of-the-mill pink nursery. Displaying a flock of flamingos on the lawn during special life events is a tradition in her family that she included in the theme of her daughter's room.

She chose a soft dove gray, antique white and coral nursery color scheme with pops of color introduced via artwork and decorations that she picked up along the way at estate sales and flea markets.


Another nice thing about a set of custom made Lilly Pulitzer baby bedding is that the fabrics work with so many of my favorite nursery themes like:


The next step was to explore the option of choosing a pattern with an alternative Pulitzer fabric print in coral pink and lime green or perhaps work with a baby bedding set in modern stripes and polka dots and work a flamingo theme in through pink flamingo accessories.
OR
I could get enough Lilly Pulitzer Boutique Signature fabric to sew my own nursery bedding out of a couple of yards of the same fabric used to make my favorite Lilly Pulitzer dress.
What an idea! I did not have to give up the idea of the perfect authentic set of Lilly Pulitzer baby bedding for this baby nursery theme! As Lilly did not do me the courtesy or favor of providing me with a proper Lilly Pulitzer Lilly baby bedding collection, I decided to take a look at some of the Lilly Pulitzer Signature fabrics and have a set of custom sewn baby bedding made.
It was like I'd never really looked at the collection of Lilly Pulitzer Signature fabrics before. I suppose I should be thankful that I couldn't find a set of Lilly Pulitzer baby bedding because I found so many possibilities and got so many great basic nursery decorating ideas.
Please make plans to visit Unique Baby Gear Ideas again soon too find more Lilly Pulitzer nursery decorating ideas.