Best Ballerina Baby Bedding Sets and Nursery Decorating Ideas
Decorating your baby girl's ballerina nursery starts with pretty ballerina baby bedding and accessories that may include vintage ballet slippers, tutus and the option of other items that you can make yourself if you are into DIY and crafts. Swan Lake with its beautiful dancers and ethereal stage props is just a sweet dream away when the entire nursery is decorated in preparation for your tiny prima donna's future as a prima ballerina.




We have some excellent decorating ideas for a stylish room for your princess including suggestions for decorative accessories, color schemes and ways to decorate the walls and shelves with items that you might have tucked away in a memory book or a trunk from your last dance recital.
THE BEST BALLERINA BABY BEDDING
If you have a favorite tutu or costume that you wore when you were a child, by all display it on a lovely hanger from a decorative wall hook or draped on the door of the nursery armoire and buy a set of ballerina baby bedding set with a fabric that contains a complementary color scheme that will highlight your treasure to its fullest.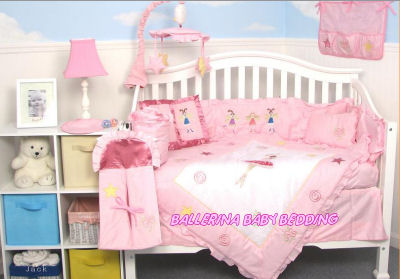 Go here to see more
SHARE IDEAS - PICTURES of BALLERINA NURSERY DECOR
Do you have a great set of baby bedding or a picture of a nursery that you decorated in a little ballerina theme? Share it!
BALLERINA NURSERY PICTURES, IDEAS and SUGGESTIONS from our FRIENDS
Click below to see contributions from other visitors to this page...

It's my opinion that personal items with a story are what give baby nursery themes their unique and personalized style. Anybody with a checkbook balance and access to an exclusive baby boutique can buy stylish, upscale nursery decorations and design a stunningly beautiful bedroom for baby. But, the chance to share your own childhood with your baby girl is unique and priceless.
Decorate a table with a ballerina skirt made of yards of gathered tulle secured with a pink ribbon tied with a bow.
This is an easy DIY project that will cost very little especially if you are a savvy shopper and pick up the table and chairs at a second hand store.
BALLERINA CRIB BEDDING SET DESIGNS
So what designates a particular set of crib bedding as a ballerina nursery bedding set per se? While it's certainly possible to find a collection of powder pink, feminine crib quilt or comforter named after your favorite ballet or a famous ballerina; I would prefer that my baby bed was decorated with motifs that were associated with the art of ballet. Here are some suggestions:
BALLET SLIPPERS - Fabrics printed with pretty toe shoes in ivory, pastel pink or white with graceful trailing ribbons tied in bows or floating across the solid color background
BALLERINA COSTUMES or TUTUS - Gathered tulle and fluffy feathers scattered across the fabric would be excellent
SWANS - Floating swans and lily pads on a peaceful lake in restful, pastel colors of blue, pink and green would be a creative and unique way to set the stage for your ballerina baby bedding to be the centerpiece for your ballerina baby nursery theme and provide that little something unexpected other than dancing equipment, clothing and supplies
TIARAS - If you are lucky enough to find baby bedding fabric printed with dainty, diamond tiaras I would buy enough yards to cover the baby's comforter, bumper pad, crib skirt as well as a custom valance for the nursery windows. Please don't confuse a tiara with a crown for a princess, or the theme of the room could take a course that becomes confusing.
Chances are that the only set of ballerina baby bedding that you find ready made in the stores will have an appliqué on the quilt of a pair ballet slippers and maybe a pretty, pink baby girl ballerina tutu. If you want to use any of the more unique prints that I suggested, you will have to buy the fabric for your baby girl's nursery theme and sew the bedding yourself or have the ballerina bedding set custom made.
Return to Unique Baby Gear Ideas to find more ballet themed crafts projects and creative ways to decorate a baby girl's nursery.