ONE-of-a-KIND BABY GIRL NURSERY
by Rachel
Our vision for a one-of-a-kind baby girl nursery; well was something romantic. I had a vision and my Mr. was not only on board with my decorating ideas but maximized the plans far beyond my expectations.


He built on my design ideas to create a beautiful room that is a little shabby chic balanced with the romance of Pride & Prejudice and all girl.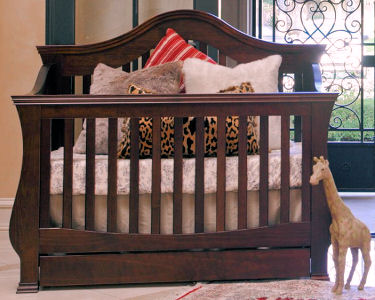 romantic shabby chic possibilities for your own baby's room.
And while I had a few "splurge" items, we fulfilled our dreams on a very modest budget. Many of the decorations were gifts and hand-me-downs that together with items we found in resale stores and antique shops blend together to create this one-of-a-kind baby girl's nursery.
The Furniture:
There is a bed and a dresser in our little
shabby chic nursery
that were mine growing up and the chair came to us by way of Amazon. The bed will be handy for quick naps and the comfortable chair will provide a place to enjoy books together.
Part of the decorative process involved installing crown molding and a lovely egg and dart pattern chair rail. The mirror in the picture hung in my Grandma and Grandpa's kitchen. We painted over its original gold finish allowing just a bit of the gold to peek through.
A wall arrangement of vintage dresses and Etsy wall art in colors that are perfect for the
gray baby nursery
called ""Our Book Club"!
This pillow cover was one of my aforementioned splurge items (although I waited to buy it until it was on sale). I just adore the puppy parade because I simply adore dogs! It will go on the bed when the baby arrives but for now I am enjoying having it in the crib next to the blanket my mama made.
April and her husband gave us this precious, pink onesie that is part of an outfit. We put the onesie in her crib to visualize just how tiny she will be when we bring her home. Our baby girl is already so loved!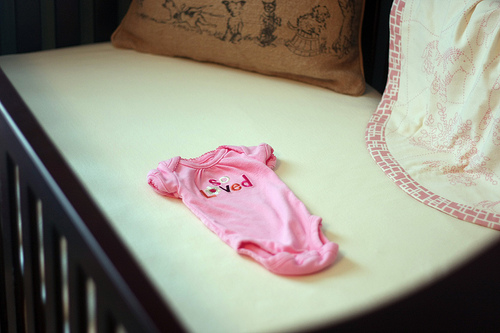 Thank for enjoying our one-of-a-kind
baby girl nursery
design with us. It is a room filled with special touches and fond memories. We hope that our daughter likes our nursery ideas and that visitors to
Unique Baby Gear Ideas
like them as much as we do!
If you would like to see more of our baby girl's nursery pictures, please visit A Cupcake for Moose!