Allegra's Pretty Baby Girl Nursery Tied Up with a Bouw
by Jan
Do you think that the word "bow" in the title of this article, Allegra's pretty baby girl nursery tied up with a Bouw is misspelled? Well, the spelling is correct! Although I'm completely capable of making the occasional typographical and grammatical error, this is not one of those instances.


I do my best to spell and phrase things properly and in this case I have it right; Bouw is this baby's family name.

Their name is pronounced just like the word that is spelled B.O.W.



I realize that you came here for a tour of Allegra's nursery not to critique my journalistic accomplishments (or lack of) or accuracy.
Go here to see more
.
If you stopped by to pick up some tips for creating a stylish nursery then unlike my poor, journalism professor; you will not be disappointed.
A successful nursery design begins with an inspiration piece. In this case the piece that sets the tone is a particularly adorable patchwork baby quilt sewn from minky fabric created by Sew Fun by Monique.
Mom and dad shared their bedroom with their baby girl for over five months and while they suffered a bit of separation anxiety when they moved her into her pretty pink, white and gray nursery, they enjoyed a sense of fulfillment when they dimmed the nursery lights and kissed her goodnight.
On the door opening into Allegra's room is a plaque displaying her name in pretty pink letters that she received from good friends as a Christmas gift.
Mr. and Mrs. Bouw had spent many months during mom's pregnancy planning and designing the room that would feature so many lovely decorative touches.
After daydreaming for so very long and picturing their precious little one actually at home in the space, the reality was undoubtedly most gratifying.
The nursery window treatments consist of floor length, gray curtain panels that, when pulled to the side, allow a generous amount of natural light to spill into the space adding to the light and airy atmosphere.
The white leather and metallic silver poufs are perfectly placed on a soft nursery area rug so that mom or dad can relax and put their feet up while snuggling with baby on the white sofa positioned in front of the wide nursery window.
I love when parents find such unique and imaginative ways to blur the lines between utility and decor.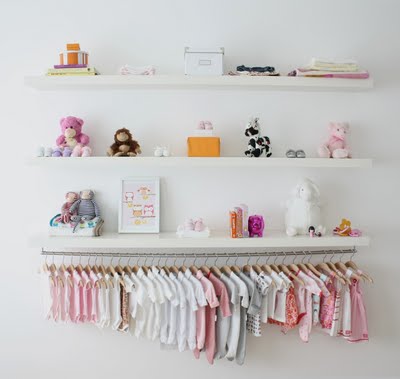 Baby Nursery Closet Organization Ideas
This arrangement is both decorative and functional with pretty decorations positioned on white, wooden wall shelves with baby's clothes displayed underneath on matching hangers organized according to size. Prettier white and pink nursery decorations would be difficult to find than these outfits.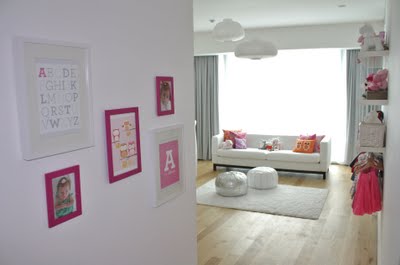 Personalized ABC initial and owl prints framed in magenta and white Ikea picture frames are included in an inviting first view into the space that includes the nursery's sitting area.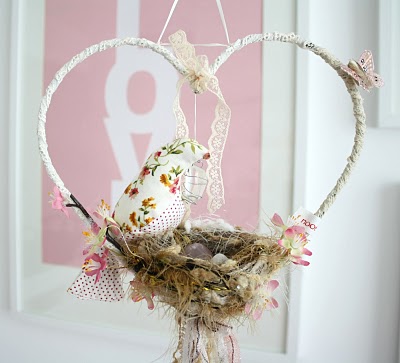 How to Make a Baby Mobile
Complementing the artwork at the entry and the wall arrangement over the baby's bed is a handmade, heart shaped dream catcher framing a delicate bird and nest filled with healing crystals.
If you have enjoyed the tour of this project on
Unique Baby Gear Ideas
you will be excited to learn that you can see more pictures and shopping resources, on
Tied With a Bow
. After you visit, please leave a comment telling Sonja how much you enjoyed her
baby girl's nursery pictures
that you saw here!