Best NEW Girl Baby Bedding and Nursery Decorating Ideas
I have ideas for using the latest in girl baby bedding sets to give your baby's nursery a designer look.  I  design a spectacular room for your little princess. I will show you how to use the colors and fabric patterns to determine the theme and color scheme for the space that will keep your DIY nursery project on track from start to finish.
It is a good idea to have your crib set in hand before shopping for
any
decorative nursery items or choosing a paint color.
Take a piece of your crib set with you to the stores to get the best color match. This simple step will save you time and money and give the room a polished appearance.
We have pictures of many popular crib collections as well as custom baby bedding sets featured in nurseries decorated by real moms and dads that will help you make a decision as to which colors and styles you like best. It is a wonderful opportunity to see girl baby bedding that you can make yourself, pick up decorating tips, craft ideas and see DIY projects completed by moms and dads just like yourself.
Many popular styles in girl baby bedding sets are based on themes such as the princess themed nursery, beach themes and others. We have a long list of the most popular nursery themes for girls if you would like to scan it before moving along.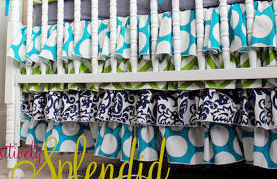 You can easily make a dust ruffle for the crib if your collection doesn't include one.
The best part of making your own baby bedding is that you have full creative control with the freedom to pick and choose your own fabrics.
Go
HERE
to see FREE patterns for bedding, fitted crib sheets, curtains and nursery rocker cushions.
Most Popular Baby Bedding Styles for Girls
Themed bedding sets often feature their own unique colors and designs that some parents find attractive while others prefer a particular color scheme and choose to skip the themed approach to decorating completely.
Some of the most popular combinations are:
pink and brown
pink and yellow
pink and black
lavender and green
lavender and yellow
purple and green


Choosing the wall color of the space is much easier when using an inspiration piece such as a fabric swatch or a piece from the actual crib set rather than an image from a catalog or a picture that you found online and printed out yourself. The differences in dye lots alone can be enough to throw the room completely out of balance and the room for error is wider with a computer generated image.