Elegant Bed Crowns and Crib Canopies for a Baby Princess or Prince Nursery Room
We have some amazing crib canopies, bed crowns and coronas to show you and when you see how incredibly cheap they are to buy or make; I know that you will just have to have one for the baby's nursery. 
I used one in a nursery project several years ago and just fell in love with canopies. I love the look of the drapes framing the crib and falling into a pool on the floor but some moms worry about their little pulling on the fabric.
I appreciate their concerns for their little one's safety and would never encourage the use of any decoration that would be dangerous but they are so very lovely and can be removed as soon as baby is more mobile and able to stand. But you should be the judge as to what is safe (or not) in your child's room.
The homemade crib crown in this baby girl's nursery includes pink roses in its design.
The flowers and the fabric used to sew the drapes were chosen for their softness.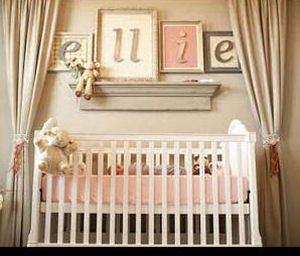 Go here to see more
.
Curved wooden bed crowns have been used for years over half tester beds as well as to decorate the otherwise boring twin bed with no headboard.
TUTORIAL: How to Make a No-Sew Crib Canopy
Custom Crib Crowns
covered in custom fabrics to match the bedding.
DECORATIVE TOILE BED CROWNS and CORONAS
When decorating and creating a focal point on a wall, be aware of the style of the room and the colors in the baby bedding set. You may want to buy extra yards of the baby bedding fabric if it's available or coordinating drapery fabric. Fabric pulled through the drapery hardware concealed by the crown that has been arranged in sumptuous folds held back by hardware in an appropriate style will take your nursery décor to new heights.
Previously, crowns and coronas were too large to use in a small room and certainly too big for hanging over a crib. But now there are scaled down models that are small enough not to look out of place in a baby's room.
BEAUTIFUL BED CROWNS FOR GIRLS
A
baby girl's nursery theme
decorated in Disney princess design would look delightful with a canopy over the baby's crib with a curved metal crown or a wood crown painted in pretty pink and white stripes. You could add gold gilt accents and have the young girl's initials monogrammed on the center medallion for a wonderfully, personalized decorative touch.
Decorating the nursery wall with bed cornices, canopies and crowns is so much fun because they are very inexpensive and there's no end to the painting techniques you can design or the trims and embellishments that you can add. They can be upholstered in matching fabrics like toile or other baby prints, decorated with satin ribbons tied in large bows, faux gemstones and jewels. These clever baby nursery wall decorations are easily painted anytime you decide the baby's bedroom needs a makeover.
The great news is that they can be recycled over and over again for many years! Once baby is out of the crib, you can decorate the space over the door or use your crowns as cornice boards over a small window.
BABY BOY NURSERY DECORATING IDEAS for BED CROWNS
There are any number of popular
baby nursery themes
that would benefit from a canopy, or crown. An elegant crown in the shape of a shield over the crib would be a perfect addition to a medieval room theme for your little prince. Boy's decorations won't be as fancy as those intended to decorate a baby girl's nursery wall. Skip the feminine scallops and fancy curlicues in favor of masculine lines and colors. An example of this would be wooden box shaped, square bed crowns painted navy blue perfect for a nautical theme nursery. The idea is to keep all of the decorative benefits and details just like in a girl's room, just without all the girly, froufrou.
Baby bed canopies and monogrammed crowns are a cheap way to customize your baby's room. They are inexpensive and easy to fashion from some scrap boards and a few feet of crown molding and you can use the leftover pieces to make some matching wall shelves! Take it from me that these beauties will highlight your baby nursery bedding and accessories to full advantage and your friends will be so impressed with your unique bed crowns as well as your stylish
Unique Baby Gear Ideas
and decorative accessories.