Gold Nursery Decorating Ideas for a Baby Girl or Boy
We have some bold, gold nursery decorating ideas for parents that want their baby's room to sparkle with personality and style.  We have examples of accents with DIY projects that will create a nursery in gold in combination with classic color combinations as well as more trendy color schemes.

Frequently asked questions regarding decorating the baby's room using metallic colors involve as to whether or not metallic spray paint is safe and how to paint a crib gold without sanding.
Many parents question whether spray paint should be used in the baby's nursery at all and are even more reluctant to use metallic colors.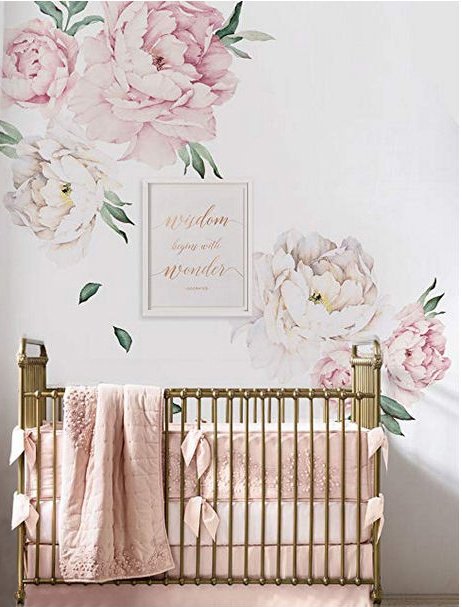 This beautiful, romantic
baby girl nursery with a gold crib features large floral wall decals and artwork with gold lettering.
The gold letters of the framed quote add another pop of metallic color to the room and would be an easy DIY project for anyone that has mastered the art of calligraphy.
The
rose pink, white and gold nursery
design features a vintage style crib set reflecting the color found in the large peony wall decor.
How to Decorate a Nursery in Gold the Quick and Easy Way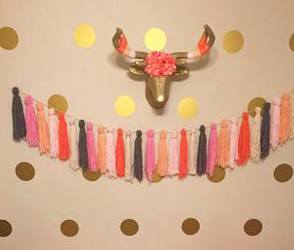 Applying gold dots on nursery wall and arranging small(er) accent pieces may be just the right touch when painting the crib is not an option or the idea of that much gold in a small space seems overwhelming.
Gold Dots in the Nursery
Gold Nursery Curtains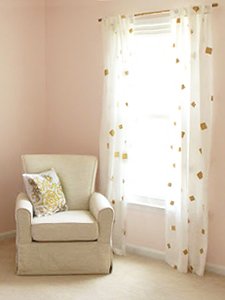 The idea of floor length, gold curtains for the nursery sparkling in the morning sun may be a pleasant thought in theory but in practice, that much sparkle may be off-putting and and bit over the top. Unless the baby's nursery theme is being built around Elvis Presley or some other bigger-than-life celebrity, consider spray painting the curtain rods gold or stenciling an understated pattern on white panels similar to the window treatments in this
pink, white and gold nursery
.
Spray paint a tree branch gold instead of a traditional metal rod to add a touch of nature to the room.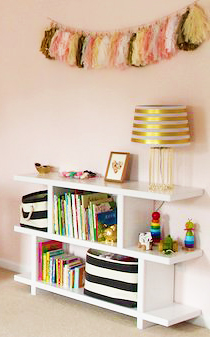 Many golden decorations are not pricey or even advanced as far as DIY projects go. Decorative impact can be achieved by simply embellishing a plain, white lamp shade with metallic tape.
Visit secondhand stores to scout for inexpensive items to rescue with a coat of paint. Example: Spray figurines gold to give them new life and create a unique display on the nursery bookshelf.
Gold Nursery Decorating Ideas for a Baby Boy
A gold mirror for the nursery adds the illusion of space to a small nursery as well as light.
Gold boy nursery decorations
pair beautifully with dark masculine colors.
Please share your own gold nursery decorating ideas with others here on
Unique Baby Gear Ideas
by uploading your photos when your project is complete.