Elegant Pink Baby Girl Nursery Pictures
by Jan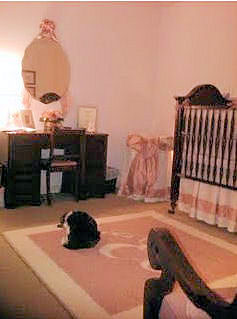 Pink And Brown Baby Girl Nursery with a vintage wall mirror, pink and white crib set and personalize nursery area rug with a large monogram initial and border
Parents, Micah and Lauren, designed and decorated their baby girl's nursery in anticipation of her arrival which at the time of this article is expected in approximately 12 days give or take a few depending on how full the stork's schedule happens to be.



Lauren gives a lot of credit for the success of this project to a family member who went above and beyond the call of duty.



Her uncle holds a very special place in her heart and obviously is very talented with a sewing machine.
Go here to see much, much more!
As you will see, fabric selection sets the elegant tone in the space.
Lauren says:
A sweet, dear uncle crafted everything you see in the nursery from the crib bedding to the bassinet, and curtains). My uncle has always held a very special place in my heart and it's to his credit that our daughter will begin her life in a room made especially for her with all the love in the world!
The nursery bedding that my uncle made is pique' with duponi silk trim. The rocking chair, desk, and dresser (which we will be using as our changing table) belonged to my father's parents who are now deceased. As you can probably tell, family is very important to us, so much of what went to her nursery was wanting her to know her heritage. The personalized rug was crafted by Belfry Custom Carpets out of Virginia.
From Jan
And with the many personalized decorations that I see in the Enloe family's elegant
pink baby girl nursery pictures
, starting early was an especially savvy move because the most simple monograms take time and I can only imagine how many might be on the waiting list for a custom nursery rug personalized with baby's monogram in colors perfectly matched to the crib set.
Lauren is probably very busy with other things and has a lot on her mind at the moment, so I appreciate that she found time to drop by and share the details of how she designed her nursery. She managed to coordinate her color scheme so perfectly and what an amazing uncle she has to make such a lovely set of bedding, the window treatments and the bassinet set. Her uncle is a man of very refined taste.
I'm sure his elegant antique ivory and dusty rose nursery decor is going to have a huge number of fans as it is a wonderful alternative to a cotton candy shade of pink.
I'm sure that our visitors will want to tell her how much they love her elegant pink baby girl nursery pictures.
Thanks to Mr. and Mrs. Enloe for sharing their elegant pink baby girl nursery pictures with
Unique Baby Gear Ideas
. To see more
baby girl nursery pictures
, visit
The Enloe Family's blog
.