Shabby Chic Princess Rose Nursery
by Jennifer
(Camarillo, CA, California USA)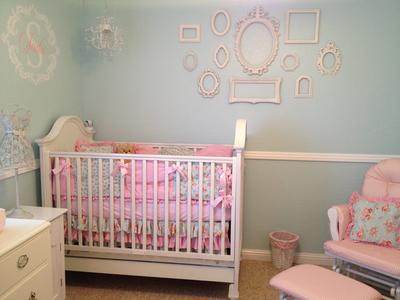 Elegant vintage style crib and DIY wall arrangment in a baby girl shabby chic nursery design using a variety of antique picture frames as wall decor
I adore interior design and have been planning my baby girl's shabby chic princess rose nursery for a long time. Decorating is a hobby that I've enjoyed since I was very young and this room features some DIY, sewing and craft projects that I had been saving for the right occasion which turned out to be the birth of my daughter.


I have anticipated the birth of my second child and was tickled pink to find out I was expecting another baby girl!



I had always wanted to do a pink and blue shabby chic nursery.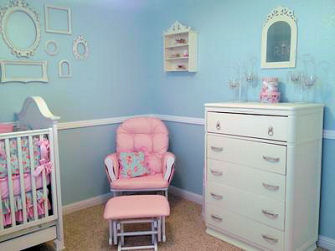 Go here to see more
.
Since I chose darker colors for a french baby couture nursery for my first daughter I decided to go for a softer look for baby #2.
I first searched for the right shabby chic fabric and designed the baby bedding set which my very talented mother sewed for me. And as usual, she was able to bring my designs to life!
We have many baby girl nursery pictures filled with DIY, crafts and sewing projects!
The fabric I chose is called Princess Rose which was perfect for my daughter who we'd already named Sadie Rose (we later learned Sadie means princess).
I found vintage dressers which my husband painted ivory and kept the distressed hardware. In lieu of a changing table, I added a changing pad to the top of one of the dressers.
I also found the perfect ivory crib with a beautiful rose scroll on the headboard and footboard.
I wanted to keep the wall decor simple, but elegant. I found several antique frames which I used as artwork above the crib.
I always wanted to display my Grandmothers Antique Teacups and found this to be the perfect time. I found a shabby chic shelf and matching mirror which tied the two pieces together.
Next I needed lighting. I decided to continue the chandelier lighting that I used in my firstborn's room over to this room. I chose an ivory Chandelier with crystals and hung this above the crib in place of a mobile.
Next, no baby girl or boy's nursery is complete without a glider. I found a pink and white gingham glider which works beautifully with the patterns of the other fabrics used throughout the nursery.
For the wall paint color, I chose a soft blue to match the bedding and added a white chair rail.
The window panels were designed to match the three tier ruffled bedskirt. I found ivory lace panels to hang behind the panels to soften the look.
Last but not least, I found simple decor from local knick knack stores to complete my baby girl's room.
Thanks for visiting
Unique Baby Gear Ideas
and I hope that you have enjoyed my
baby girl's nursery pictures
as much as I enjoyed decorating it!