Aqua Baby Nursery Ideas
Pictures of Aqua Nursery Ideas, DIY Projects and Paint Color Recommendations
We have lots of aqua baby nursery ideas to share with you including paint color recommendations, DIY projects and artwork that you can make yourself.  Shades of turquoise, teal and aqua blue are very popular in nurseries for both baby girls and baby boys these days as you will see in the pictures that have been sent in by real moms just like you.
These savvy, innovative DIY decorators have used aqua in many unique color combinations with amazing results. One mom figured out that adding tiniest touch of pink in a virtual sea of aqua blue is all that's needed to make the color feminine using pink to create a traditional girl's nursery design.
And another crafty lady made her own shabby chic pink and aqua baby bedding set as inspiration for a vintage and modern design. There are quite a few ideas for crafts projects as well as painting ideas that will help you to get the exact look that you desire in your baby's room.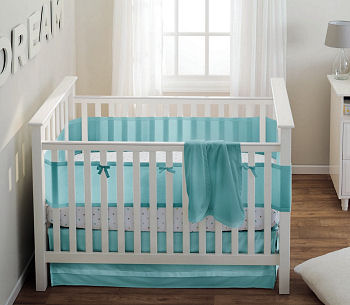 Go here to see more
The crib's bumper pad might be made from fabric featuring an old-fashioned print with pink roses.
Then the fitted sheet could be made from a fabric with a contemporary, geometric pattern to give the set a modern look.
And if pink has the capability of making this shade of blue girly; you should see how positively amazing it looks with a generous splash of bright red (so long as the fabric doesn't have a floral print)! Unlike the patriotic feel of navy blue and red, aqua and red has a fresh and lively look that is all boy...or girl!
.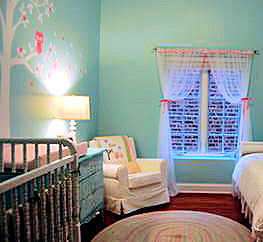 Pink and Aqua Nature Themed Owl Nursery
Take for example this pink and aqua baby nursery that was decorated for a baby girl. The mom that sent the picture called it a "Natured Themed Nursery". The white tree wall mural that was created with wall decals with the large pink owl on its branches help to define the theme but the nursery colors are a very attractive feature.
Many colors pair with aqua blue as seen in the Baby Boy Nursery Pictures shared by other parents.
The creamy, antique white paint color that was used to paint the wooden trim around the windows has been repeated in the wide frames chosen for arrangement of black and white photos above the day bed.
The upholstery of the comfortable nursery rocking chair as well as the bedding on the daybed are a similar shade of cream.
Go HERE to use the free color generator to see colors that pair well with aqua.
The room does not have to be huge to hold all the necessities for a baby girl's first year.
With careful planning a small aqua baby nursery can be very attractive as well as functional. The design can be very appealing with close attention to the budget and a few DIY crafts projects thrown in for good measure.
The shade of aqua included in the stripes of this modern painting technique reminds me of a clear sky on a spring day.
Mom chose a shade of blue for the wall that is several shades lighter than the one seen in the baby bedding set.
This decision was made since the room was not very large and a darker color would have visually drawn the walls inward making it seem even smaller.
A pink and aqua nursery is all girl! This one takes on a "Wise Owl" theme due to the large owl perched on a branch of the tree decal. More color is added to the room with the colorful, homemade ribbon mobile, one of the easiest craft projects and aqua baby nursery ideas ever!
Please make plans to visit
Unique Baby Gear Ideas
again soon to see the latest aqua
nursery ideas for baby boys
,
nursery ideas for baby girls
and to see
nursery pictures
for both filled with
Unique Baby Gear Ideas
and crafts projects that have been completed and shared by other visitors to our site.
When you are done decorating your baby's room, I hope that you will pass it forward and share your own photos and tips for decorating baby girl and boy nurseries decorated in an aqua color scheme.