Easy Free Baby Crochet Patterns - Crochet Baby Blankets, Booties, Hats, Bibs, and More
On this page you will find free baby crochet patterns that I think  new moms or anyone that may be interested in stitching up a nice stash of homemade baby gifts will be interested in.  I, personally, have crocheted many of the items using the patterns and have included pictures of the hooded blankets, booties, hats, bunting, and baby crowns that I made myself.

I am at best a beginner to crocheting baby blankets and clothes. So, if I can manage the patterns I'm pretty sure that you can, too since some of them are so easy and work up really fast.
I would currently rate my skills at knitting and crochet as an advanced beginner. At the time I crocheted my first baby blanket I had never held a hook or needle and was completely new to the world of crafts as a whole.
However, I found that each pattern got a little easier and my stitches more even. I'm certain that if you enjoy this pastime nearly as much as I have that the same will apply to you.
Crochet Baby Booties Patterns
Baby Crochet Hat Patterns
When you finish a project, please take some pictures and upload them.
Do YOU REALLY Know Your Basic Crochet Stitches? Go HERE
to see if your skills are really as good as you think.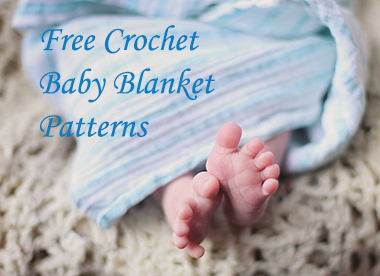 Free Crochet Baby Blanket Patterns
Crochet Baby Sweater Patterns
Crochet Baby Booties Pattern
Crocheted Baby Booties Pattern
Free Baby Knitting Patterns
We are always on the watch for proven patterns to share with our visitors. If you have some recent projects that you have completed, please feel free to upload your pictures and direct us toward as many crochet baby blanket patterns, patterns for crochet baby booties, hats, sweaters or patterns for baby toys or other items as you can. This simple step will help other moms find easy patterns that will put their hooks and yarn to good use FAST!
If you happen to have a color picture of some of the items to that will give an example of what the baby items should look like, that would be super. How many times have you gotten halfway through a crocheted piece only to see that the stitches didn't look right, the gauge was wrong or that the blanket, booties or hat were nothing like what you imagined?
For that reason patterns with lots of pictures in the instructions are the best for beginners. If you are experienced with reading crochet patterns, you may be able to visualize the final results but those of us just starting out need a little assistance. The free baby crochet patterns that are featured on this page are vintage patterns for baby clothes that were in the public domain. You may find that some of the baby yarns that are mentioned in the instructions no longer exist and some of the terminology used may seem to be right out of the dark ages.
If you need help making yarn selections or crochet hook size conversions, you may want to ask for some help in one of the fine crafts forums online. Another option may be to check at the bottom of the page to see if someone else has posted comments after making a pair of booties, a blanket or a hat from the same free baby crochet pattern that you need some help with.
Please plan to visit
Unique Baby Gear Ideas
again soon to find new patterns that have been added to our growing library.