Quaint Vintage Crochet Diaper Cover and Baby Cloche Hat Patterns
The problem with some vintage crochet diaper cover and baby cloche hat patterns are that the instructions are written in old-fashioned terms and the recommended yarn brands have been out of business since your grandmother was a newborn!
Vintage baby crochet patterns are not for sissies or beginners. That's why this MODERN vintage baby crochet pattern is so special; you get a vintage look with none of the hassle. Sssshhhh....we won't tell that you didn't crochet the cloche from an old pattern if you don't.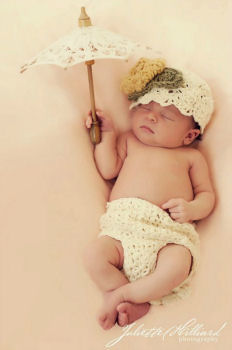 Go Here to See More
Supplies necessary to complete the vintage crochet diaper cover and baby cloche hat patterns are a 5.50 mm hook or whatever size that you would need to obtain the proper gauge of 6 dc=2 inches, 150 to 190 yards of antique white or cream color yarn and a small amount of green and yellow number 4 worsted weight yarn.
The shell stitch is the only special stitch necessary for this pattern and there are wonderful, closeup pictures to show you exactly how to make them. This is part of what makes this pattern by Crochet My Love so special; you won't find such easy to follow instructions in really old crochet patterns!
The vintage crochet diaper cover and cloche hat are lovely worn alone. But the photographer had the wonderful idea to adda pretty parasol to complement the set which makes excellent studio props for a baby girl's 1st portrait.
Please make plans to visit us often to see more vintage baby diaper cover and cloche patterns for babies and please don't forget that we have cute baby nursery ideas on our website, too!
We invite you to upload pictures of your finished projects to inspire others to try their had at the craft and offer support to those who would like to crochet a baby hat. You are also welcome to share the addresses of websites that offer free crochet diaper cover patterns to help our friends who are on a tight budget get started.
To share pictures of your crocheted baby items, pattern ratings and opinions or to make us aware of any vintage crochet diaper cover and baby cloche hat patterns that we should know about, please use the form on this page that we have provided for your convenience.