Crochet Baby Bunting, Cocoon or Blanket from a FREE Hooded Baby Towel Crochet Pattern

The hooded crochet baby bunting (cocoon or blanket) was crocheted using a free hooded baby towel crochet pattern that I found online.  I wanted to make it in our favorite football team's colors to give as a gift.   I used thick, super chunky yarn so that the cocoon would be warm and snuggly. 

Why would a beginner to the art of crochet go to the trouble (and frustration)of converting patterns for baby bath towels that were written for sport or worsted weight yarn into ones for thick yarn? I asked myself this question several times during the process but I'm so tickled with the results; I'm glad that I did!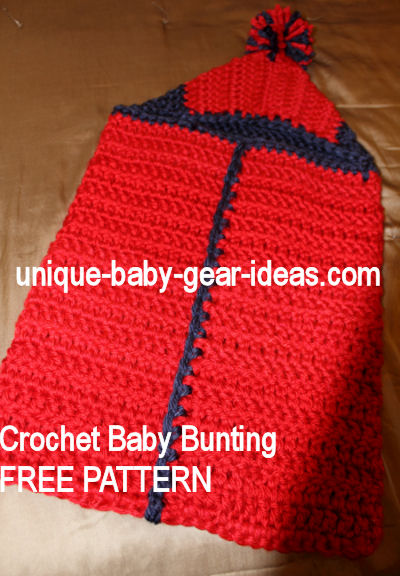 The yarn I chose worked up very nicely and I love that you can clearly see every stitch.
When I received the baby shower invitation and learned that the theme was football; I knew that I wanted to crochet a royal blue and
red baby blanket
but not just
ANY
blanket would do.
I did a search online for crochet baby bunting patterns and came up lots but wanted one that
did not have buttons
was large enough to fit a newborn up to one (1 year)
There were so many adorable patterns for baby cocoons that would make excellent photo props but I was looking for one that could be used more than once and then stuffed into a drawer.
Then, I saw
THIS ONE
and thought, if only the towel was not so lightweight it would work.
How could I make it heavier? I'll tell you how; with soft, chunky Lion Brand Hometown yarn. I followed the directions of the hooded baby towel pattern to the letter
EXCEPT
rather than using sport weight yarn; I used chunky yarn and rather than using a size F/5 crochet hook; I used my whopping, big size N!
Modifications to the Free Crochet Baby Bunting Pattern
I can't post the free pattern verbatim on
Unique Baby Gear Ideas
because of copyright issues but what I CAN do is tell you how I changed the original pattern to suit my needs.
You will have to print the pattern and make the following adjustments:
Use Lions Super Bulky Hometown Yard rather than Sport Weight yarn (5 skeins of the main color and 1 skein for the edging)

Use a Size N crochet hook
Row 1:  Chain 65 rather than 130
Rows 2-36 - Disregard and crochet until the piece is 18 inches in size
Rows 38-54 - Disregard and crochet 8 inches
To reflect the larger size of the crochet baby bunting; I also increased the size of the pom pom on the hood from the original 1 1/2 inches in size to a big, fluffy 3 1/2 inches. As you can see; it's so CUTE!