Crochet Tutu Diaper Cover Pattern with Crochet Flower Baby Hat Set
The sheer number of ruffles on this crochet tutu diaper cover pattern are enough to make you grab your hook and crochet all night and day! The idea of covering a newborn's sweet little head with the crocheted flower petals of this baby hat is enough to inspire anyone to get busy.
The hat is so feminine and it's the perfect "topper" for the tutu. Don't forget the jeweled decorations to make it your own special OOAK creation.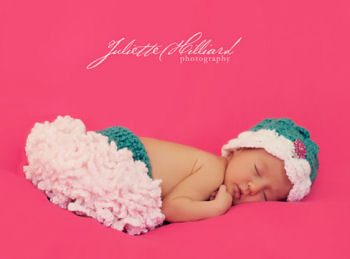 Go Here to See More
According to Crochet My Love, supplies necessary to complete the crochet tutu diaper cover pattern are a 5.50 mm hook or whatever size hook that you would need to obtain the proper gauge of 6 dc=2 inches and lots and lots of yarn for all those ruffles, 315 yards of number 4 worsted weight yarn to be exact.
The crochet tutu diaper cover pattern and baby hat set is perfect for a girl. The feminine ruffles of the crocheted diaper cover and the petal baby hat make an adorable set. As you can see from the photos taken the credited photographer, the crochet tutu and hat would make excellent studio photo props for a baby girl's first portrait as well as fast selling products for a stay-at-home mom's home business.
Please make plans to visit us often to see more unique baby diaper cover and hat patterns for baby girls and please don't forget that we have cute baby nursery ideas, too!
We invite you to upload pictures of your latest projects to help beginners to the craft know how to crochet a baby hat and other items they can sell or give as gifts. You are also welcome to share your free crochet diaper cover patterns or to tell us where we can might them to introduce our friends who are on a limited budget to the craft.
To share pictures of your baby crochet project, your pattern ratings and opinions or to let us know about a free crochet tutu diaper cover pattern that you know about, please use the form on this page that we have provided for your convenience.