FREE Crochet Baby Sweaters Patterns That are Easy for Beginners

Most crochet baby sweaters are made using patterns that are for those with advanced crocheting skills rather than beginners.  Attaching the collar and the sleeves to the main body of the sweater can be challenging for newbies. 

Making certain that they fit smoothly and are even in length are crucial to a properly fitted sweater or jacket.
Some crochet baby sweaters use stitches that are open or cotton yarn that results in a very light and airy look that is perfect for wearing in late spring or on breezy summer nights. And others use wool yarn and a solid stitch that is heavy enough to be baby's first winter coat. Add a matching hat and you have the perfect, handmade Christmas gift for a friend's new baby.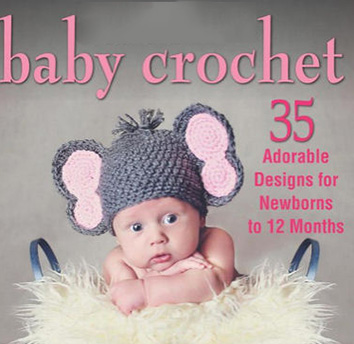 Go here to see more
sweet and simple baby crochet projects including hats, sweaters and matching blankets that can be used everyday or as photo props.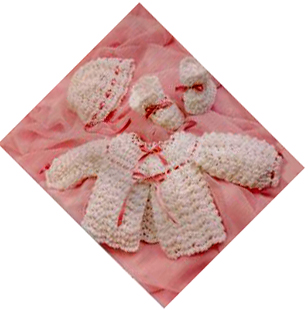 THIS book has the instructions that you will need to make the
baby crochet baby sweater set in the above picture.
Materials required for the first of our free patterns for crochet baby sweaters are three skeins of Saxony yarn, one single spool Of silk-finish crochet-cotton thread or crochet-silk, and two and a half yards of Number 1 satin ribbon. Use whatever size hook that will easily carry your yarn and get the gauge that you need.
Do You Know How to Make the Stitches Needed to Crochet this Sweater?
Go
HERE
to be sure that you are ready to get started on this project!
Make a chain of 100 stitches and then make your turn.
1. Skip the first four stitches and then make a treble in each of 96 stitches, drawing up to about 5/8 ths of an inch. Break and fasten the wool so that the work will be done on the right side you can turn, if you prefer, but the effect is not as good.
2. You should now fasten in at the same place where you began, pull up and make two trebles in the top of the 3d treble and one single treble back to where you fastened in, which will complete a cross; repeat, making 32 crosses in all. Break your thread at this point and again join in at the end where you began.
3. Make 21 trebles over 7 crosses, (twelve trebles over next 2, eighteen trebles over six (6) crosses) twice, 12 over 2, and again 21 over 7, which brings you to the end of your row. The 12 trebles over 2 are used to widen; the others are made 2 on each individual cross and 1 between.
4. Repeat same as 2d row, making 38 crosses.
5. Make 21 trebles plain (that is, 3 over each cross). 24 over 4 crosses, 21 plain, 12 over 2 crosses, 21 plain, 24 over next 4, 21 plain.
6. Forty eight (48) crosses.
7. Make twenty one (21) plain, twelve (12) 12 over next two(2) crosses, twelve (12) 12 plain, (12 over next 2, 24 plain) twice, 12 over next 2, twelve (12) plain, 12 over next 2, 21 plain.
8. Fifty-eight (58)crosses.
9. Make twenty four (24) plain, miss 12 crosses, 24 plain, 12 over next 2, 24 plain, miss twelve (12) crosses, 24 plain.
10. Thirty-six (36) crosses.
11. Plain, with three (3) extra trebles under each arm, and 6 extra over the 6 crosses at the center of the back.
12. Forty (40) crosses.
13. Plain, with six (6) extra in back.
14. Forty-two (42) crosses.
15. Like 13th row.
16. Forty-four (44) crosses.
17. Same as the 13th row.
18. Forty-six crosses.
19. Plain, without any widening in the back
This is a pattern for one of the crochet baby sweaters that is decorated with satin ribbon woven through some of the open stitches. So, around the neck you will now need to make spaces for the ribbon by fastening in at end of the foundation-chain, chain 5, miss 2, a treble in next, * chain 2, miss 2, 1 treble stitch, and then repeat. Now you will make a row of crosses entirely around the crochet baby sweater or jacket, putting extra crosses at the corners to keep the work nice and flat, follow this with a row of treble stitches, widening by making extra treble stitches at the corners so that they will turn nicely, finish with a row of shells consisting of 8 trebles in each stitch, miss 3, fasten, miss 3; repeat, and edge with the crochet-silk, making a double between 1st 2 trebles of shell, (chain 2, a double between next two stitches) 6 times, chain 2, double in double between shells, chain two (2), and then repeat.
To form the sleeves of the crochet baby sweater:
1. Make six (6) trebles on trebles under the arm, and 36 over the 12 crosses.
2. Fourteen (14) crosses.
3. Plain, with three (3) extra trebles under arm, 45 in all.
4. Fifteen (15) crosses.
5. Same as 3rd row, making forty-eight (48) trebles.
6. Sixteen (16) crosses.
7. Same as 3rd row, making fifty-one (51) trebles.
8. Seventeen (17)crosses.
9. Same as 3rd row, making fifty-four (54) trebles.
Finish the crochet baby sweater with shell stitches and chain-loops, same as those described for the body of the sweater jacket. Thread one and one-fourth yards of ribbon through the openings around the neck, and divide the remainder, weaving it into the seventh row of the sleeve and finishing the crochet baby sweater off with a pretty bow on top.
Please visit
Unique Baby Gear Ideas
again soon to rate our vintage baby sweater crochet patterns, pick up more free baby patterns and see the latest in nursery decorating ideas. On this site you will find many free patterns for knit and crochet baby sweaters with booties and hats to match shared by our crafts loving visitors.