Free Baby Crown Crochet Pattern Ideas and Adventures

I have some ideas for how to take a free baby crown crochet pattern and embellish it so that it will SHINE as a photo prop!  On this page you will find tips on making and dressing up a crown so that it is a unique gift or prop for your baby princess or prince's first photo shoot.  Every newborn prince and princess deserves to be treated like royalty and royal babies don't want the same old crowns that everyone else is wearing.  Am I right?

Even a beginner can master the stitches necessary to work up a crown crochet pattern often in less than an afternoon and that includes the time it takes to visit your local crafts store and buy a crochet hook, pick out yarn and any other supplies that you need.
Here's a tip: chunky yarn works up FAST! If you are a person (such as myself) that needs instant gratification, soft, chunky yarn and a big crochet hook are your friends.
I have a notebook full of free crochet patterns that I use time and time again. Every time I use one I add a new stitch, a different edging or something that will make the crocheted item that I plan to give as a gift to a newborn unique.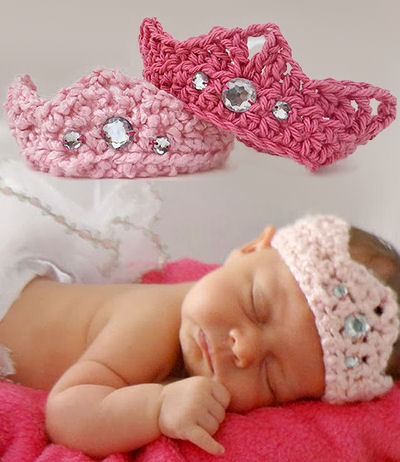 Go here to see
examples of all the colors and styles available.
What Kind of Yarn Should I Use?
I experimented with several types of yarn and learned that worsted weights (and chunky) yarns were best as they have enough body for the points of the crown to stand upright and hold their shape especially when embellishments are added.
It is especially important to include something new and different on outfits or anything that might be used as a portrait photo prop.
For example, the
Domestic Bliss Squared Instructions
gave me the idea to add faux jewels to their free baby crown crochet pattern for a little sparkle or "bling" but then I thought about it and realized that the baby I was making the gift for was born in June. Adding pearls (beads) to the crown was easy and the results were very, very pretty.
This free baby crown crochet pattern is adjustable and has instructions for a jeweled magic wand that would be nice for older children.
I enjoy crocheting as much as the next person but I also like to get a lot of mileage out of the money and the time that I spend on crafts. The fact that this princess crown is adjustable and that it has a matching accessory that will surely come in handy in the future for trick or treating or for play dates where girls love to play dress-up is very appealing to me.
Elegant Baby Crown Crochet Patterns
The princess crowns that have been shown so far are easy beginner projects that are made from yarn that works up very quickly. There are also patterns that I would like to show you for very elegant tiaras and crowns crocheted using very fine thread making them more suitable for those with advanced skills.
These pieces require additional steps to finish beyond simply tying off the thread. This type of crown must be starched, shaped and left to dry just like the old-fashioned doilies that are used to decorate antique furniture.
I am in the process of making one of these dainty crowns and will upload pictures of it as well as my very own baby crown crochet pattern that I'm adapting from a vintage pattern that I found in a book that my great-grandmother many, many years ago.
Keep watch on
Unique Baby Gear Ideas
' blog as I will be posting them soon! Meanwhile, please practice making one of the crowns using chunky yarn. I promise that you be addicted and have a huge stash of baby gifts in no time flat!