Precious Pattern for a Crochet Baby Hat with a Large Flower
This pattern is for a crochet baby hat with a LARGE flower that has six, count them, SIX layers of petals! The crocheted flower is HUGE in a sweet, newborn kind of way.
The big flower is what sets this baby beanie pattern apart from so many others. PLUS, this sweet little pattern is for newborns right on up to the preteen so the lucky baby and her big sister can have matching hats in their portraits!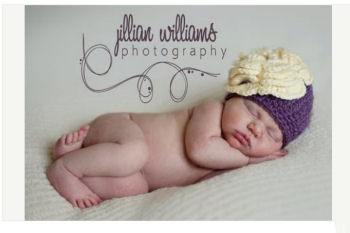 Go Here to See More
The sizes available are:
0-3 months
3-6 months
6-12 months
1 to 3 years
3 to 10 years
The details of the big, flower make the crochet baby hat with a large flower better for an intermediate beginner who with some practice would quickly learn to manage all those layers of petals just fine. The rest of the baby beanie would be a nice project for a beginner since the crochet baby hat pattern instructions don't call for lots of special stitches.
Supplies needed would be a 5.50 mm hook (or whatever size crochet hook that you need to obtain a 6dc=2 inch gauge) and very soft, size 4 worsted weight yarn. You will need one (1) full skein of yarn in the main color (purple beanie portion of the hat pattern) and and one (1)skein for color A (cream color to make the flower).
The big crocheted flower on the baby hat is adorable as you can see from the photos by Jillian Williams Photography.
This moderately easy to crochet baby hat with a large flower would make an excellent studio photo prop for baby's first portrait shoot or to just wear and enjoy everyday! This would also make a very thoughtful girl baby shower gift for a friend and would be so very cheap to make yourself!
Please make plans to visit Unique Baby Gear Ideas often to see more free crochet hat patterns with both large and small flowers for babies and the most stylish nursery decorating projects in our photo galleries.
We also encourage you to upload pictures of your latest needlework projects to show beginners how much fun we are having as well as to share any resources for free crochet baby hat patterns to help newcomers to the craft get started without a large initial investment.
Please share your pictures, advice for the best yarns as well as tips for how to make a crochet baby hat with a large flower using the form on this page that we have provided for your convenience.