DIY Baby Mobiles in Themes Baby Crib Mobiles That Will Fascinate Your Infant
We have ideas for baby mobiles that you can make yourself that may be just as fascinating as the ones that were offered as part of your crib set.  With a few basic supplies, making your own crib mobile is an easy DIY project that will fascinate your infant.   
The decorative as well as the educational benefits of a high contrast mobile to catch the eye of a newborn hanging out in the baby bed are said by many experts to be important.
There are many styles available for purchase online to accommodate the busy, modern mom with little time to spend on crafts but why miss out on all the fun?
We have many examples that can be made at home for those with the time, skills and desire to make their own.
Go HERE to see why every nursery should have a crib mobile.
You see, crib mobiles stimulate your baby's senses.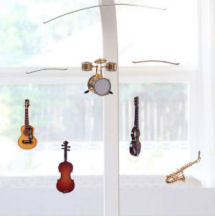 A unique musical instruments crib mobile might launch a musician's career early on by familiarizing him or her with various instruments.
Pick up tiny musical instrument Christmas ornaments for a song after the holidays, buy some fishing line and secondhand hardware at a yard sale and you're golden.
Make your own modern crib mobile using felt fabric cut into shapes that reflect the theme of the nursery.
Hang your homemade decorations on one of the inexpensive frames that can be found at a craft store or use the hardware from an old mobile found at a thrift store.
One of the best ideas I've seen lately for making your own mobile for the nursery ceiling or over the crib featured keepsakes from the baby's parents' wedding.
What a beautiful way to display a special memory from one of life's most important events.
Even beginners with little to no sewing skills can create something spectacular like this bird mobile suspended on its own grapevine wreath "nest" frame.
Who knows if or to what degree babies that are exposed to moving, colorful objects or musical entertainment enjoy advanced mental development as compared to others who were not lucky enough to have such a stylish and luxurious setup.
Research shows that there is a direct correlation to skills and learning abilities and the quality of toys that children play with further down the road but it would be difficult to say where the process of expanding a child's visual horizons may actually begin.
Most parents report that their newborns began to notice these decorations at around the age of six months, give or take a month or so. Some believe that black and white crib mobiles are seen earlier than others because of the sharp, contrasting shades making black and/or white very popular colors with modern parents.
Make your own nursery ceiling mobile using your favorite forest creatures as decorations.
There are many easy patterns and tutorials for DIY designs in the most popular nursery themes like this one with sailboat decorations.
Toy sailboats and sailing ships are available to use as decorations at any discount store.
The boats, hanger frame and paint cost less than $5 and Mom said it was one of the best crafts ideas she had for her baby boy's nursery. And she included a
LOT
of fabulous sewing and craft projects in the room that you will want to see.
This homemade world globe mobile was an easy, DIY project completed by a baby boy's mom and dad.
Garlands of paper cutouts in combination with plastic globes came together to make a colorful display sure to catch the eye of visitors to the room as well as this creative couple's son.
With a little felt and a kit or a homemade frame you can easily make your own.
Here's a pattern for a baby mobile frame that is hung on the ceiling of the nursery rather than the crib.
The paper lanterns and stars are mounted on a grid type frame.
The benefit of a ceiling mobile is that it draws the eye upward and expands the dimensions of the room.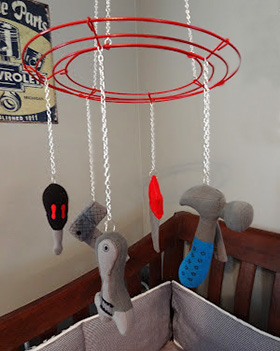 A mobile for a vintage car or garage theme baby nursery might have toy cars as decorations or in this case, felted toy tools from Ikea do the job.
This homemade
crib mobile for a vintage car baby nursery
was made using a wire wreath form as a hanger.
This pretty, pink nursery ceiling mobile doesn't require a frame; it's hung using wide satin ribbons.
The beauty of learning how to make your own baby mobile is that you have more control over the colors, style and the decorations.
Some mommies-to-be like to make their own decorations and attach them to a kit.
Or you might buy a crib mobile kit and attach a selection of miniature stuffed animals like monkeys, elephants or a variety.
The mobile's design can be as fancy or as simple as needed.
This example of a planets crib mobile was made using little more than brightly colored yarn and wooden embroidery hoops.
Homemade Cloud Mobile with Crystal Raindrops
This would be a great craft project for a beginner requiring less than a yard of white fleece fabric, some nylon line and crystals.
This example features a white cloud but it would be fun to experiment with different fabrics and color combinations.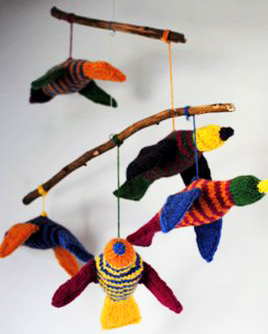 A free pattern for knit birds made good use of scrap yarn in a mom's stash of craft supplies.
Knitting your own baby mobile and then using a tree branch as a hanger results in a unique one-of-a-kind item that costs very little to make and gives the satisfaction of having saved money and the enjoyment of completing the project as a bonus.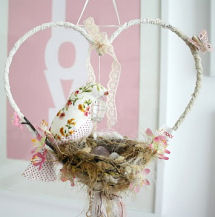 A few scraps of fabric and some twigs are all that you need to make a bird's nest crib mobile.
This combination elephant and hot air balloon crib mobile is a delightful creation perfect for an elephant or hot air balloon nursery theme.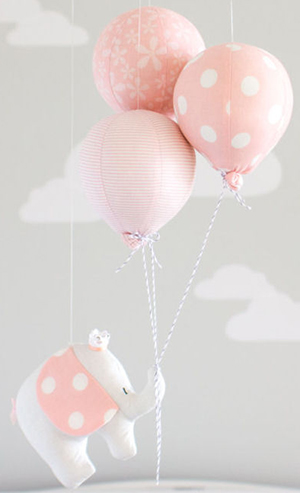 The pink and white polka dot accent fabric of the baby mobile in the picture can be replaced with one that complements your baby's crib set.
Baby Crib Mobile Ideas
Do you have a picture of a homemade crib mobile? Post it here!
Homemade DIY Baby Mobiles and Crafts Instructions
Click below to see contributions from other visitors to this page...

Decorating a Nursery for a Baby Boy Using a Combination of Patterns Including Chevron and Houndstooth

I like to decorate and decided decorating a nursery for a baby boy using a combination of patterns including chevron, houndstooth and others would be lots …
CRIB MOBILE THEMES
Mobiles have the power to create a theme in any room for less than $50! A plain nursery can be become a room with a fun beach theme with the addition of a surfboard crib mobile decorated with colorful surfboards or one with seashell decorations picked up for free on your last summer vacation.
There are mobiles available for most of the popular baby nursery themes for sale in stores but as you can see from the pictures of homemade ones on this page; some parents prefer to make their own.
If you decide that you want to make your own baby mobile from a kit or with materials and craft supplies that you have on hand, you should do so with the knowledge that someday your child will be able to stand up and put the dangling, entertaining objects that you made in his or her little mouth. Your homemade baby crib mobile has to be designed so that it does not present a potential safety hazard or choking danger to your baby.
Please stop by
Unique Baby Gear Ideas
again soon to see more pictures of homemade baby mobiles for your baby's nursery.