Magnolia's Shabby Chic Nursery
by Amanda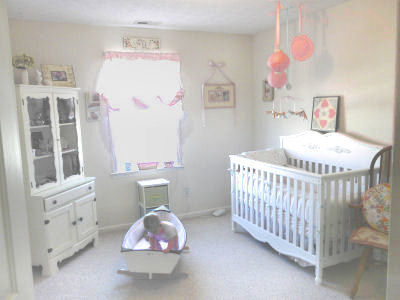 Our baby girl, Magnolia's shabby chic nursery in pink with a vintage sailboat that she loves to play with.
I had many decorations for Magnolia's shabby chic nursery collected but wasn't able to put them in place for a little while.

We are a military family and move quite a bit and moved from Florida to North Carolina when our baby girl was just two weeks old.


Thankfully, she was born a week early so we had a few days rest between the hospital and packing for the move!




Throughout my entire pregnancy I knew we would be moving so I didn't set up a nursery.
Go here to see more
Once we got settled, I knew the theme I wanted would be shabby chic.
A chippy sign hung by an ivory ribbon on the door welcomes visitors to enter and enjoy Magnolia's nursery!
Also hung by satin ribbons are the three
pink paper lanterns
and a dragonfly mobile in the middle of them. I suspended each decorative element of the arrangement from the ceiling using pink satin ribbon.
The varying shades of pink in the ceiling decoration complement the framed quilt square above her crib was handed down through my husband's grandmother's family. It was originally made sometime in the 1930's and has since been cut up and made into different things. She has some bibs made from old family quilts that are the most absorbent bibs I've ever seen! I believe that one is hanging on a hook in the pictures.
I bought picture frames and other small decor items as I found them. Instead of a baby dresser I wanted a vintage china hutch. Eventually we found the one that we used on craigslist for only $75!
The piece was very well used. but after we refinished it with a soft green and a soft pink paint along with a crackle coat finish it looks amazing.
Inside the open part of the hutch I have several things of importance arranged where we can enjoy them. Magnolia's jewelry jewelry, my baby blanket that I came home from the hospital in and all kinds of little things people have made for her are on display.
Her baby bedding was from the "shabby chic" line at Target.
The Coast Guard boat cradle was made by my husband's parents. His father did the woodworking and his mother made the mattress and bedding for it.
As much as we would love to paint her room a soft green, we are not planning on staying here for longer than a year so we left the walls white and instead added the wall decals above her crib.
I believe that sums it up the process of decorating Magnolia's shabby chic nursery. If you have any other questions about our baby girl's nursery just ask. I hope that you enjoy our
baby nursery ideas
and will vote for our entry!