Deer Themed Nursery Ideas
DIY Forest Theme Decorations for a Baby Girl or Boy Deer Nursery Room

The deer themed nursery ideas in the pictures below have some easy DIY projects that will surround your baby boy or girl with inexpensive forest theme nursery decorations. There is an adorable crib mobile that you can make yourself in your spare time using a tree branch decorated with homemade animals made from scrap fabric (leftover from the crib set?) and bits of felt. 

As you will see, these decorating projects range from the very rustic to the elegant. No matter what your particular taste; we have deer nursery ideas for everyone!
Soft, furry woodland creatures subdue bright colors and soften the effect of modern deer themed nursery decorations.
The bold, yellow deer head on the wall adds a whimsical touch to the comfortable seating area in a corner of the room where a floor lamp is conveniently placed for reading.
The majesty of a trophy whitetail deer head on the nursery wall over the dresser is reflected in an elegant crystal chandelier.
The careful blending of elegance with
rustic hunting decor
was an inspired decorating idea.
Decorations that are included with most
deer crib bedding
sets are too "matched" for most parents' tastes; many of our visitors make at least some of their own.
Take for example this "easy to make" nursery ceiling mobile that has been made from a tree branch.
Simply trim a branch from a tree in your own yard and then have fun making your own selection of forest animals as decorations.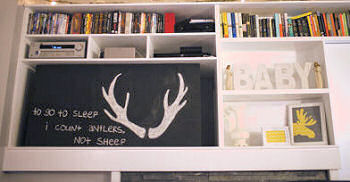 Whitetail Deer Wall Decorating Ideas
Decorate the nursery wall with a pair of antlers accompanied by the quote, "To Go to Sleep This Baby Counts Antlers Not Sheep".
The Deer Nursery Theme Grows with Baby
A forest nursery theme is one that will grow with a baby girl or boy. As he or she matures and the crib is converted to a big bed your toddler will appreciate the beauty and peace of surroundings inspired by Mother Nature.
Whitetail Deer Theme Decorating Tips and Nursery Ideas
Bring nature indoors via arrangements of leaves, hunting trophies or photographs trips to the log cabin in the woods that can be framed and used to decorate the walls of the room. The beauty of decorating with deer is that they are amazingly versatile and will complement even the most modern colors and fabric patterns.
I hope that nature-loving visitors to
Unique Baby Gear Ideas
have enjoyed our deer themed nursery decorating ideas and that you will visit us again soon for updates and to see more pictures of nurseries decorated with whitetail deer.