Lily Kate's Pretty Pink and Antique White Nursery Decor
by Jan
Lily Kate's mom wanted her baby girl to have a room that featured pretty pink and antique white nursery decor. Her decorating ideas were thought out with attention to each tiny detail. Indeed, everything in the room was carefully planned and arranged referring to a professionally designed inspiration board.




Her mom also indicated that in spite of her plans, the room's design turned out to be quite different than she had imagined.




However, nobody is complaining because, as you will see, the room is amazing.
Go here to shop the pretty
pretty pink decor seen in this nursery project.
Lily's crib mobile is made from crystals that were used as decorations in her parents' wedding making it a one-of-a-kind item that adds a very special and sentimental touch to Lily Kate's
pink nursery decor
.
Making Lily's crib mobile proved to be a very labor intensive craft project but the results are incredible. It's worth every bit of the time and effort to create decorations with such a personal meaning that will be used and enjoyed for many years. And this pretty piece will be dancing in the sunlight long after the crib has been replaced with a big girl bed.
Ashley found the white linen bumper pad and crib skirt set for the baby's bed on Etsy. She had originally thought of making her own fitted crib sheet from some pretty fabric. But that DIY project is currently on hold until a later date.
After finding the beautiful crib by Bratt Decor on sale at a baby boutique that was going out of business with a 50% discount off of full retail price, everything seemed to fall into place just as it was meant to be.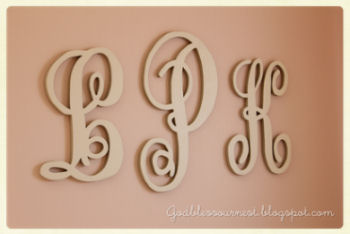 Ideas for Wooden Nursery Wall Letters
Elegant, wooden wall letters painted antique white contrast nicely with the pink nursery wall paint color, "Romance" by Sherwin Williams. The letters will most likely remain after the nursery is transitioned into a big girl room.
This big ticket item was one aspect of decorating a nursery for baby that went according to plan. Ashley wanted to keep the "expensive" things gender neutral so that they can be used again in the future.
And that was not the only fortunate find that Ashley and her husband, Benjie, made while decorating their baby girl's nursery.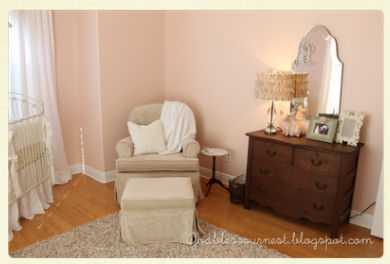 They got another lucky break when they found an old dresser in her dad's shed that fits beautifully with their
vintage nursery theme
. The time will come when a larger piece will be needed for storage, but for now it's just perfect.
I hope that you have enjoyed our walk-through of this precious room as much as I have. You can get more information on how Ashley put things together as well as a tutorial for the mobile on her blog,
God Bless our Nest
as well as more
nursery pictures
. But before you leave
Unique Baby Gear and Nursery Decorating Ideas
, please visit our gallery of nursery pictures filled with rooms decorated for baby boys and girls.