Baby E's Bird Theme Nursery
by Jan
Baby E's bird theme nursery is the result of a "mom on a mission" that spent countless hours bookmarking nursery ideas and mulling over nursery themes. The design of the room reflects her reluctance to decorate with a "nursery in a bag" or as I call it, "cookie cutter decor".


The baby's room had been Taryn's sewing and craft room and while she didn't mind this fueled her desire for the design to be very, very special to justify her sacrifice.
Since the baby's gender was being kept secret, she wanted a neutral style with the focus of the decor to be on birds and trees.
There are many more bird theme nursery ideas for your project on our site.
Taryn envisioned a space filled with birds, trees and nature decorated with items that would create a tranquil space. In her words, "I knew we were going to need as much peace (-fullness, -of mind, -and peace and quiet) as we could get during those first few months!".
Go here to get
to get everything you need to implement Taryn's decorating ideas in your own project.
After sorting through hundreds (thousands?) of nursery pictures the orange, brown and white nursery color scheme was quickly determined.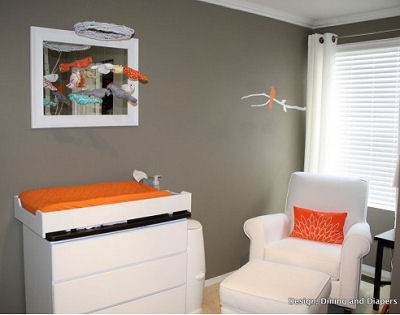 There was already a built-in nook in place making it very easy to create a cozy reading corner with a comfortable rocking chair found at Pottery Barn. It was a bit of a splurge but the chair was so comfortable that Taryn says she just couldn't resist!
We think she made an excellent decision since the rocker came with chair legs, so they can use the chair in a different room late on. What an excellent idea! And this is certainly something to think about when pondering whether to buy a glider or a rocking chair.
The features that define the
baby nursery theme
are the handmade bird crib mobile and the birch tree wall decals.
Taryn handmade each of the birds on the mobile using fabric that she already had in her collection plus a few new swatches of material she found on a trip to her local fabric store.
After she made the birds she attached them to a white grapevine wreath and hung the mobile so that it would be reflected in the mirror. Genius!
Having some of the fabric from the birds left over and with no luck finding suitable bird themed wall art in her colors, Tayrn, being the crafts minded chick that she is, made these adorable nature scenes by wrapping fabric around pre-stretched, art canvases.
The bird silhouettes and tree shapes are cute, colorful and right in line with her chosen theme and they come together in a very attractive, colorful arrangement that adds so much to the whimsical birdhouse and tree mural.
There are many other cute details and decorations that you will want to see in Baby E's bird theme nursery and I'm sure that you will want to know where you can buy them all.
Just drop by Taryn's blog,
Design, Dining and Diapers
and you will find a complete shopping resource for the decorations she bought for the room. Be sure to leave a comment here on
Unique Baby Gear Ideas
telling her how much you enjoyed seeing pictures of Baby E's room.