Classic Vintage Car Baby Boy Nursery Decorating Ideas

The classic vintage car baby boy nursery decorating ideas that you will see during our tour of the room below feature items that collectors of automobile memorabilia are sure to appreciate.

The decorator that created this room was clearly partial to Chevrolet but it would be easy to substitute Ford, Dodge or even decorations related to your favorite hot rod if you choose.
This car themed nursery seamlessly blends
muscle car baby nursery
decor and old school Chevy decorations.
The color scheme is primarily black, grey and red with pops of color introduced via the baby blue Chevy truck tailgate over the baby's changing table.
The color of the DIY Chevy truck wall decor is the perfect complement to the fire engine red storage cabinet with
Chevy Corvette drawer pulls
and the rough texture of the faux brick wall.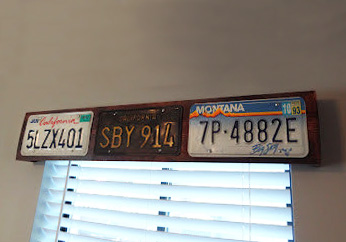 A unique display of antique license plates from California and Montana license plates serves to customize the nursery's window valances.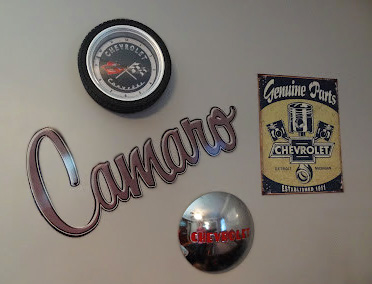 Go here to see
vintage garage signs and Chevy wall decor for your car themed nursery.
The red 57 Chevy wall shelf is the perfect place to display a personalized car tag with the baby boy's name. The vintage car shelf was a lucky find at Hobby Lobby and is so much bigger than it appears in this photo. The next picture shows the size and scale of the personalized license plate and the shelf more clearly.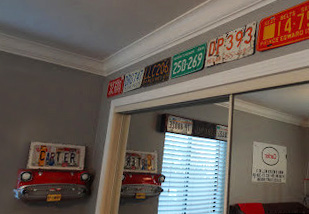 A row of vintage license plates from Mexico and Canada just below the crown molding are a reference to the baby's heritage.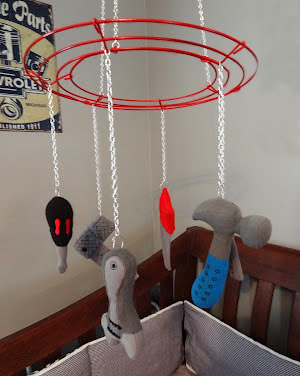 The
homemade DIY baby crib mobile
was made by Mom out of a spray painted metal wreath form and some chains that she used to hang toy-sized, felt tools she found at Ikea.
Knowing
how to restore a vintage car
without losing the patina can be tricky but the results are worth the effort.
The rusty, blue and white Chevy truck tailgate was located in the local classified ads.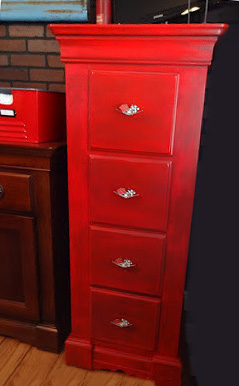 Another DIY project that sets this vintage car baby boy nursery design apart is the reclaimed armoire that was once just a piece of beaten up and broken old furniture. Dad upcycled the piece, painted it bright red and gave it a beautifully customized new look.
Vintage Car Maternity Photo Ideas
How awesome to pose the mom-to-be with dad's other "baby", his vintage car.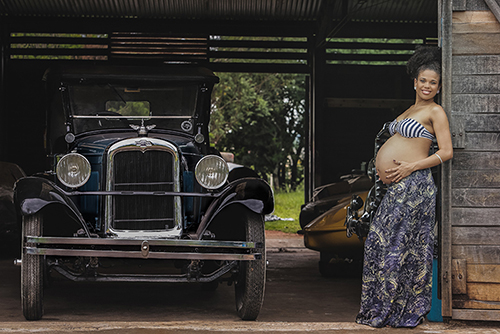 Many thanks to All Things Homie for allowing
Unique Baby Gear Ideas
to take you on a tour of their baby boy's nursery to reveal their many DIY secrets and decorating tips.