Cityscape Nursery Theme Ideas for a Baby Boy
by Nicole
(South Jordan, Utah)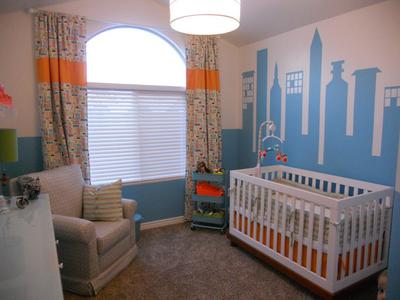 Modern Cityscape Nursery Theme for a Baby Boy
I found a fabric that got my cityscape nursery theme ideas for a baby boy and my creativity flowing and then; I simply couldn't stop! I love textiles! Textiles add pattern, warmth, texture and color to a room. I used the fabric that has skyscrapers, buses, bikes, The Statue of Liberty and The San Francisco Bridge printed on it to make the nursery curtains. The fabric inspired me to design a unique, modern nursery that is filled with bright colors.


I taped off the outline of the city using blue painter's tape. Then I sealed it with white paint so that the blue wouldn't leak through. I was pleased to see that the lines turned out to be very clean and crisp. The white windows are vinyl.
Modern Furniture for a Cityscape Nursery
I bought the rocking chair from Buy Buy Baby. The (TARVA) dresser and the (RASKOG) diaper cart are from IKEA. I painted the pine dresser white and then added the chevron pattern to match the crib bumper. I also added new dresser drawer pulls.
I made the crib skirt and bumper using Up Days fabric by Doohikey Designs.
Cityscape Nursery Décor and Lighting
The (RUTBO) pendant light and the (LACK)wall shelf are from IKEA. I cut the airplane wall decal out of black vinyl. I
made my own cityscape baby mobile
out of felt and a mobile that I found at a yard sale. I removed everything and inspired by design ideas I found on Etsy, made it to fit the nursery theme and the colors of the room.
I absolutely love designing nurseries! I designed a nursery for my daughter and now I have decorated one for my son. I think you can be very creative with the décor and not be restricted by what you see in stores or decorating magazines. The best part is that it is for a baby and they don't have any say in it; you can design it how
you
want. My favorite part was planning it and making all of my
Cityscape nursery theme ideas for a baby boy
work together.