Sock Monkey Crib Mobile
by Alisha
(Peoria, Illinois, USA)
I have attached a picture of a homemade sock monkey crib mobile that I made to go with the custom crib set that I bought for our baby boy's nursery! We decided to decorate his first room in a sock monkey nursery theme because my husband had several of these stuffed toys that he loved and played with all the time when he was a child!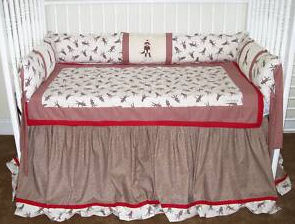 Go Here to See More
What we have learned since we chose this design for our baby boy's nursery is that this theme is more difficult to decorate than other nursery themes. It has been very challenging to find decorations for the room and this is why our
sock monkey crib mobile
is handmade.
From the webmaster:
You know, I never noticed before but not a one of the crib sets that are for sale have mobiles included as part of the matching accessories in the bedding collection! You are so creative and talented to be able to make your own!
And I would love to hear exactly how you made it! Did you buy a baby mobile kit and then attach the dolls that you made? Do you have a resource for a miniature sock monkey pattern that you can give us in case another mom wants to copy your ideas?
Thanks so much for sharing pictures of your monkey themed mobile with
Unique Baby Gear Ideas
, Alisha!