French Country Modern Nursery Design
by Rachael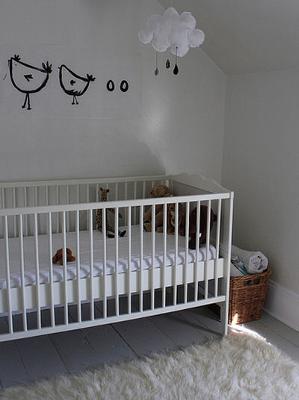 Simple Baby Boy's French Country Modern Nursery w Homemade Fabric Rain Cloud Crib Mobile & Hand Painted Baby Chicks
I chose a French country modern nursery design that is functional rather than fancy. It is simple but exactly what I wanted for the room. I LOVE uncomplicated, serviceable decor; the simpler the layout the better. This makes it so much easier to keep the baby's room clean and organized and I find the look of smooth, uncluttered spaces very soothing.



I chose the look and feel of the decorations, what few there are, in the room myself out of my own tastes and affections.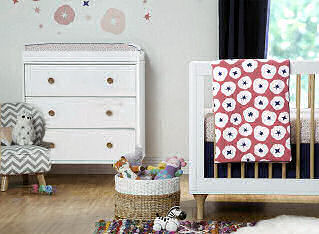 Go here to see more.
My appreciation of rustic, white, furry little things has grown exponentially throughout the years and as you can see from the pictures of the nursery my accumulations came together easily to create a unique atmosphere in this little room.
The project started with the DIY rain cloud baby mobile. The rain drops turned out to be made from black and white and Burberry fabric.
Crafts that followed included the black paintings of baby chicks, black paw prints and lots of white furry things to cozy the room up.
I made the little drawstring bags, the rain cloud baby mobile, the puppy dog paw prints pillow and blanket for the changing table. I also painted the chickens on the wall over the crib myself! Roosters are a standard decoration in many

French country designs
.
But this IS a baby's room so baby chicks are more appropriate.
The baby's white crib, the sheepskin, the flokati area rug, the shelves and the rocker are all from IKEA. The changing table was bought for our first baby at TARGET in 2007 and fit perfectly in this baby's French country nursery design.
I am just in love with creative and beautiful ways to store everyday things.
Unique Baby Gear Ideas
that mix crisp, white modern items like the IKEA wall shelves with the worn, rustic texture of an old wooden crate are my favorites!
I LOVE this little room and I am looking forward to receiving comments on my baby boy's nursery from other moms.
I hope that you will visit us over at my blog
The Best from Mommy Nest
to see more of my artwork and to see what I'm crafting!