Creative Baby Name Stencils
Baby name stencils are often used by parents that want an exact color match or that have issues with wooden wall letters, vinyl decals or anything else near their baby's crib. Stenciling is a way to personalize the walls of the baby's room and eliminate the worry of falling objects or the danger of inadvertently presenting a choking hazard in their efforts to make their child's room attractive.



Visitors Learning How to Stencil a Baby's Name on the Nursery Wall Also Enjoyed These Pages:


Nursery Wall Letters

Nursery Name Decals



We can stencil any baby names that we want directly on the walls and embellish the names in lots of cute ways by combining stencil patterns in designs that complement the baby's nursery theme.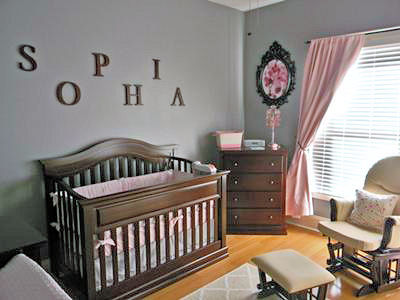 Go here to see more
baby name stencil patterns.


You might stencil your baby girl's name and then frame it with a wreath of leaves, vines and roses or an ornate scroll.
In a baby boy's, a bold, masculine stencil of his name can be enhanced using motifs in the room's theme such as airplanes, sailboats.
How to Make Your Own Stencil Patterns
You can create your own baby name stencils, word stencils or monograms by downloading printable fonts online, making your letters, names and words as large or small as you need with a photo editing program and then cutting your homemade stencils out with a razor knife. This method is cheap if you have lots of time on your hands, but for the average mom staying up late, the decrease in price is not worth the puffy eyes you get from staying up long after the kids are in bed in order to work on your hand made name stencils in peace.
I would invest in custom name stencils that have been laser cut by one of the stencil shops online. It's a quick, easy and inexpensive way to get started on your personalized baby name wall art project. If your child has one of the more popular (and common) baby's names it's possible that you can skip the fee for a custom cut stencil. Once you consider that you can use these sturdy re-usable stencils over and over price seems even cheaper! There are so many different occasions where the application of a pretty painting of your baby's name will be appropriate from the time he or she is an infant to pre-school and beyond! Here are a few ideas:
Combine the kids' names with cute border stencils in baby motifs to create a detailed focal point on the wall over baby's crib or other piece of nursery furniture
Stencil baby's name on the headboard of the crib with a jeweled crown over it for your little prince or princess' royal place of rest.
In a jungle theme room, have your name stencils cut in letters that are illuminated with animal themes and then get stencils or exotic snakes, lizards or other tropical critters to frame baby's name
Nursery Stencil Crafts
Paint a personalized wall hanging on canvas after sewing a rod pocket at the top so that you can easily mount it on the wall.
If you have frequent bedroom makeovers or have to relocate regularly, it makes more sense to use your stencils to paint creative, unique wall hangings and plaques as they are more mobile. This is more than just another kids name on the wall, it's YOUR CHILD'S name stenciled on the wall and that's a painting project to be proud of!
Please make plans to visit Unique Baby Gear Ideas often to see latest decorating tips on how to use stenciling to decorate the walls of your home.